Seeking adventure at the Edinburgh Fringe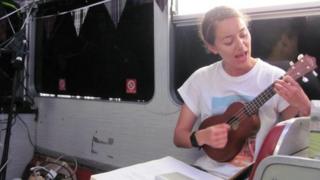 I am on the top deck of a bus parked in the courtyard of a pub in Edinburgh. It is 10am, the windows are blacked out, the bus is bedecked with tartan bunting and a young woman is regaling us with tales of her adventures across the US.
There are four of us - the performer, Nadia Brooks, plus three in the audience. The power has gone off so she is showing us her accompanying slideshow on a laptop on a stool.
This is the start of my mission to try to get my head around the Edinburgh Fringe. With 2,871 shows - from comedy and theatre to magic and cabaret - it caters for just about every artistic taste under the sun.
In an attempt to get a taste of what the Fringe has to offer in just one day, I am watching as many shows as possible with the word "adventure" in the title.
Why "adventure"? It turns out it is one of the most popular words to have in a title for a show (except perhaps "show"), and it offers everything from stand-up comedy to a spoof musical to time-travelling magicians to adult puppetry.
Anything goes
There are more adventurous shows I cannot see for one reason or another. I cannot get to children's shows with "adventure" in the title involving puppets, beatboxing and jazzed-up nursery rhymes.
Villains, Heroes and Adventures, a combination of storytelling and whisky tasting, only takes place later in the festival. And Ben Fogle's talk titled In The Name Of Adventure has sadly been cancelled.
So I start with Nadia Brooks' show on the bus, which has the snappy title Tyke Rider: A Yorkshire Lass's Driving Adventure from the City of Angels to Graceland via the Big Easy.
A Tyke is a nickname for someone from Yorkshire (she is from Sheffield) and she tells us she travelled in a car that reminded her a bit of the car from 1980s TV show Knight Rider.
It is Brooks' first appearance at the Fringe and is essentially a slideshow from her road trip, from being propositioned by David Hasselhoff to working on a film set in New Orleans to encountering aliens in New Mexico.
Somewhere around Kansas my mind wanders and I wonder how to describe it without sounding terribly mean. She had the chutzpah to bring a show to the Edinburgh Fringe, which could open any number of doors for the future. And this if the Fringe, where anything goes.
But my mean side says it is self-indulgent and has limited appeal - perhaps restricted to close family members. And even then...
The next stop on my Edinburgh adventure is a spoof musical performed by two energetic Doctor Who geeks titled I Need A Doctor: The Unauthorised Whosical Adventure.
The premise is they were going to perform a show involving classic characters and storylines until the BBC threatened legal action for copyright infringement, so they came up with an alternative which is as close as possible without breaking any copyright rules.
James Wilson-Taylor is enjoyably over the top as "the doctor", with Jessica Spray as his companion Fiona McFeisty. They have K-10 the dog, the "men who are cyber" and "The Exterminators" - Wilson-Taylor wearing a colander attached to a plunger on his head. I promise not to tell the BBC lawyers.
With impressive facial hair and their small set packed with vintage props, Rhys Morgan and Robert West are the Victorian magic duo Morgan and West in A Grand Adventure.
They must travel the world to catch a thief who stole their book of tricks, making them a cross between Sherlock Holmes, Harry Houdini and Phileas Fogg.
It is an inventive twist on the magic show, but they are mainly low-grade illusions coupled with gentle comedy.
A couple of streets away in an attic above a pub, comedian David Burke, has a show titled The Exciting Adventure of an Uninteresting Man.
Despite a promotional photograph showing an awkward chap with beard, cardigan and cup of tea, Burke turns out to be a garrulous and likeable Irishman.
He talks about horror stories from backpackers' hostels around the world in between tangents loosely based on different nationalities, his pursuit of a woman and an irrational hatred of the French.
He has an easy rapport with the audience, who have packed out the venue. Admittedly it only has 20 seats, half of which are taken by a troupe of Scottish high school drama students fresh from performing Grease.
I race across town to get to the back room of another pub for Adventures On Air, a stand-up routine by James Cook, based on his seven years working as a local commercial radio DJ.
His cheesy DJ voice is turned up to "ranty" as he tells of the glamour of turning on the Nuneaton Christmas lights and cutting the ribbon on a Nottingham branch of the Co-Op.
Cook also lets us in on one DJ pastime - timing how long their celebrity guests spent in the toilet. Darius Danesh topped the leaderboard at Mercia FM between 2004-06 with seven minutes 40, apparently. In a day of mixed delights, his is the most enjoyable hour.
The final show stars two small leather puppets, Boris and Sergey in A Vaudevillian Adventure. This is puppetry for adults - they play poker, gyrate on an audience member's head and do a raunchy dance to Kate Bush's Wuthering Heights.
There are no strings - each puppet has three stony-faced helpers crowding them and holding their hands, feet and heads.
Adult puppetry is big at this year's Fringe, and there are some magical moments, like when they run or fly or fight. Those moments are not quite frequent enough.
So 13 hours after boarding the bus, the adventure is over. The quality of the entertainment has varied hugely, as have the styles of the shows. That, I guess, is the beauty of the Fringe.