The Simpsons and Family Guy reveal guest star voices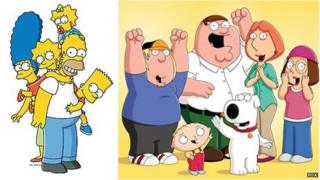 Daniel Radcliffe, Ashton Kutcher and Mariah Carey are among the stars lending their voices to roles on the new seasons of The Simpsons, Family Guy and American Dad.
It will be the second time Radcliffe has featured in The Simpsons, after a Halloween episode in 2010.
Mariah Carey will play a "redneck animal handler" in American Dad, while Ashton Kutcher will make a guest voice on Family Guy.
Fox makes all three animated shows.
In 2010, Harry Potter star Radcliffe lent his voice to a young vampire, this time round he will play a strange older boy that Bart encounters.
Mad Men's Elizabeth Moss, Bridesmaid's star Kristen Wiig and Eva Longoria will also voice characters for The Simpsons' 25th season.
Moss will play a mum who names her baby after Homer when he helps deliver the child.
Bridesmaid star Wiig will play an FBI agent in the show's first episode going out on 29 September in the US.
Also included in the series is an episode by Anchorman creator Judd Apatow. Last year he revealed that a script he wrote for The Simpsons 22 years ago is to finally make it to air.
The script sees Homer Simpson hypnotised into thinking he is 10.
Other guest voices on Family Guy will be Conan O'Brien, Two and a Half Men's Jon Cryer, Bryan Cranston of Breaking Bad and Maroon 5 singer Adam Levine playing himself.
Zooey Deschanel, the star of New Girl, will also voice a role on American Dad.