Cbeebies star Cerrie Burnell tells disability story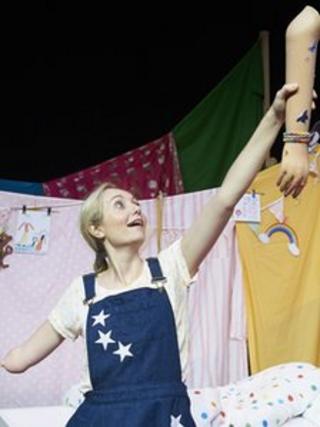 Children's TV presenter Cerrie Burnell has written and is starring in a play for young audiences about a girl with one hand, inspired by her own childhood.
Burnell, known simply as Cerrie in the cosy world of Cbeebies, has been entertaining small children on the small screen for four years.
The fact that one of her arms ends at the elbow has never been remarked upon on air. It is just, well, one of those things.
Now she is on stage at the Edinburgh Fringe with a show that makes it central to the story.
In The Magical Playroom, Burnell portrays a young girl called Liberty Rose who loves playing with her prosthetic arm - the only problem is, she hates actually wearing it.
"I think it's really important to champion inclusion and that's something I try to do in all my work," Burnell says.
"We're fabulous in this country at celebrating diversity. We flag up our differences and embrace them. But actually inclusion for me is when those difference lose all of their relevance, and actually what we have in common is what shines through."
The play may be about a girl with one hand, but Burnell says the child is really no different to any other girl.
"The play engages with a much broader topic, which is challenging parental authority, which all children know how to do," she says.
"There isn't a five-year-old in the world who hasn't fought to get their own way. Here's a little girl in an unusual situation, but look how similar she is to every other five-year-old."
Burnell herself was born with part of her right arm missing and says she was "made" to wear a prosthetic arm by doctors until she was nine.
"It was part of my school uniform really, I only wore it to school and I'd take it off when I got home," she recalls.
Why did she dislike it? "For all the reasons that Libby gives in the show. It's just really cumbersome and really heavy. It's as simple as that. There isn't any big psychological thing. It just gets in the way."
In the show, a doctor tells Libby she must wear her false arm because "nobody wants to look at your stump", her ballerina mother tells her to wear it so the girl can follow in her footsteps on stage, and her grandmother asks the girl to flash her arm to a theatre ticket collector so the awkward usher will wave them in for free.
Was that theatre scene based on experience? "That particular thing hasn't happened to me in such extreme terms," Burnell replies. "But yeah, there were little instances that were similar to that throughout my life."
In real life, Burnell trained and travelled as a stage actress before joining the Cbeebies team.
She did not have a television at home until she was nine, she says, so claims to be unaware of the lack of disabled role models on children's TV in her youth - or of the fact that she is a trailblazer herself.
"I'm highly ambitious, and when you are very driven and ambitious, you're not interested in whether someone else has gone before you," she says.
"You're quite happy to be the person who cuts a path. Also what you have to remember is I don't just see myself as a disabled performer.
"I've got one hand, but it's not the most interesting thing about me. I'm a woman with lots of other things going on.
"I've got a daughter who was three months old [when I started] so my biggest concern was, am I going to express milk or not?
"I had other things going on. I wasn't thinking, oh, no-one else has ever done this before. And even if that had occurred to me, I wouldn't have cared."
The Magical Playroom is at the Pleasance Courtyard in Edinburgh until 18 August.