Latest James Bond novel cover revealed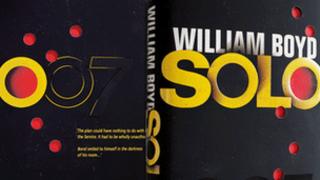 The cover for the new James Bond novel by William Boyd has been revealed, featuring die-cut bullet holes which "hint at danger and espionage".
Solo, set in 1969, features Bond as a veteran agent, whose solo mission in Africa takes an unexpected turn.
The designer, Random House creative director Suzanne Dean, said she was inspired by Ian Fleming's 007 series.
The audiobook edition of the novel, published in September, will be narrated by actor Dominic West.
Dean, whose previous designs include the covers of Ian McEwan's Atonement and Mark Haddon's The Curious Incident of the Dog in the Night-Time, said the book's title was her starting point.
"In the book, Bond goes on an unauthorised solo mission, recklessly motivated by revenge. I had always been keen, since finding out the title, that there might be a way to use the two o's within Solo and link it to the zeros in 007.
"A new Bond cover needs to do a lot of things at once," she added.
"It needs to appeal to literary and commercial audiences, both fans of the original 14 Fleming books and film fans. It needs to reflect both the content of the novel and capture the reader's imagination."
The illustrator also took inspiration from designers such as Paul Rand and Saul Bass, who created memorable logos and title sequences in the 1960s.
"I didn't want just to depict a cinematic image, but rather to try and reflect the essence of Ian Fleming's original novels, as well as William Boyd's own take on James Bond," she said.
While the abstract die-cut holes in the outer dust jacket aim to represent a "pivotal part of the novel," the red hardcover beneath reveals a gecko, a reference to Bond's African mission.