BBC Radio 2 and Radio 4 hit record Rajar figures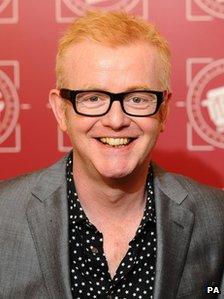 BBC Radio 2 and Radio 4 have pulled in record numbers of listeners, according to the newest figures from Rajar.
An average weekly audience of about 15.44 million tuned into Radio 2 while Radio 4's audience rose to 10.97 million a week.
Chris Evans' Radio 2 breakfast show saw its average weekly reach fall slightly from 9.8 million to 9.75 million.
Radio 1's Nick Grimshaw, who replaced Chris Moyles, saw his average breakfast audience climb to 5.88 million.
The figures are up from 5.78 million in the first quarter of 2013, which represented a drop of almost a million following Moyles' departure.
At the time, Radio 1 said Grimshaw's move to breakfast was part of a strategy to lower the average age of its audience to the station's target - the 15 to 24 age group.
His latest figures are still far behind Radio 4's Today Programme's audience of 6.97 million.
The Asian Network, which was once targeted for closure saw a rise in listeners - its average audience reach went up from 554,000 to 587,000 in the first three months of the year.
While BBC 6 Music saw its weekly audience dip slightly from 1.81 million to 1.79 million.
Both Radio 2 and Radio 4 are enjoying the highest overall listening figures they've ever recorded since the current RAJAR methodology began in 1999.
Radio 2 controller Bob Shennan said the station's success was down to its "distinctive high quality content".
BBC director of radio Helen Boaden said the quarterly results were "testament to the hard work of everyone involved with the networks and they should be proud of their efforts".
Related Internet Links
The BBC is not responsible for the content of external sites.