James Gandolfini swansong will 'freak out' audiences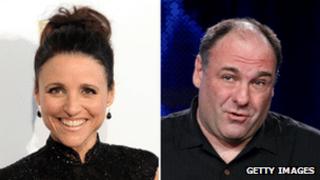 Audiences will be "blown away" by James Gandolfini's final film outing in the romantic comedy Enough Said, his co-star Julia-Louis Dreyfus has said.
"I think people will just really freak out seeing his performance," said the Veep and Seinfeld actress at an event in Santa Monica, California.
Gandolfini, best known for his mobster role in TV show The Sopranos, died in June of a heart attack.
Enough Said will premiere at the Toronto Film Festival in September.
According to Dreyfus, Gandolfini will be seen playing a "very kind-hearted, earnest, dear man" who is "really not far from who he really was".
"He plays no thug in this picture," the actress told reporters. "He is so not Tony Soprano. And Jim was very much much more like this character."
Working with Gandolfini on Nicole Holofcener's film, the 52-year-old continued, had been a "dreamy experience".
"He was straightforward, open, very giving and generous as an actor," she said. "And I think people see that on film."
Enough Said, a Fox Searchlight production, is described on the Toronto International Film Festival website as "a smart and decidedly modern romantic comedy".
Gandolfini had finished another film before he died, Animal Rescue, that is yet to be released.
His final TV appearance, however, is unlikely to be screened.
The Sopranos star had filmed a pilot for an adaptation of the 2008 BBC series Criminal Justice, in which he played a New York lawyer.
HBO's Michael Lombardo said he could not imagine the show airing following its leading man's death.