Paul Greengrass film to open New York Film Festival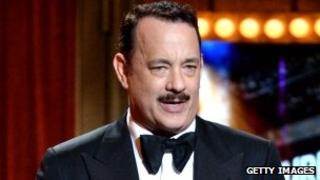 Paul Greengrass' latest film, Captain Phillips, starring Tom Hanks, is to have its premiere at the opening night of the New York Film Festival (NYFF).
The film is a biopic of Captain Richard Phillips who was taken hostage by Somali Pirates during the Maersk Alabama hijacking in 2009.
It marks Greengrass' return to the New York festival following the screening of Bloody Sunday in 2002.
The 51st NYFF takes place between 27 September and 13 October.
A Somali man was sentenced to more than 33 years in prison for the pirate attack on the Maersk Alabama merchant ship.
Abdiwali Abdiqadir Muse was the only survivor of the crew of pirates who attacked the ship off Somalia's coast.
He was captured by the US Navy, whose sharpshooters killed three other pirates trying to escape on a lifeboat with Captain Phillips.
"Captain Phillips is a riveting experience," said the festival's director of programming, Kent Jones.
"At this point in his working life, Paul Greengrass has become a master of immersive reality-based narratives set along geopolitical fault lines.
European premiere
"I'm excited that this tough, tense, real-life thriller, capped by the remarkable performances of Tom Hanks and four brilliant first-time Somali actors, is opening the 51st edition of the festival," he said.
Captain Phillips is based on the book A Captain's Duty: Somali Pirates, Navy Seals and Dangerous Days at Sea by Captain Richard Phillips and Stephan Talty, with the screenplay by Billy Ray.
Starring alongside Hanks are Somali newcomers Barkhad Abdi, Faysal Ahmed, Barkhad Abdirahman and Mahat M Ali.
The film is due to be released in cinemas on 11 October.
Bloody Sunday won the coveted Golden Bear award at the Berlin Film Festival in 2002.
The film, about the shooting of 13 civilians in Londonderry in 1972, shared the prize with Japanese animated feature Spirited Away.
It was announced on Thursday that Captain Phillips would have its European premiere at the 57th BFI London Film Festival on 9 October.
Clare Stewart, BFI head of exhibition and festival director, said they were "thrilled" to open the festival with Captain Phillips, saying audiences would be "captivated by Greengrass's virtuoso filmmaking".
The full programme for this year's London festival is due to be announced in September.