Adam Sandler tackles his critics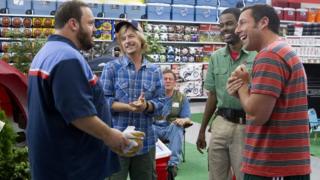 His films have grossed nearly £2bn at the box office but critics continue to revile Adam Sandler's movies. With his latest film about to hit UK cinemas, does the actor care what they think?
Adam Sandler's new film, Grown Ups 2, topped the North American charts upon its release last month, beating Guillermo del Toro's fantasy blockbuster Pacific Rim into second place.
However the movie only scored an 8% positive review from critics on movie website Rotten Tomatoes.
Trade magazine Variety said it was "among the slackest, laziest, least movie-like movie released in the last decade"; The New York Times described it as "pap"; USA Today thought it was "an eye-rolling excursion in toilet humour".
The Guardian recently described Sandler's 1998 hit The Wedding Singer as "that rare concern in Hollywood, the well-reviewed Adam Sandler movie".
But as Grown Ups 2 has already made $100m (£65m) in the US alone, does the 46-year-old even care what the critics write about him?
"I know what they say about me," the actor says, "and they've never made me laugh yet.
"I have to remind myself of the reason why I came into films - which is just to have fun, laugh and be with my buddies. That's why I do it."
The sequel to the 2010 film, directed by Dennis Dugan (who has worked on nine projects with Sandler), reunites most of the cast - Sandler, Kevin James, Chris Rock and David Spade - as a group of 40-something friends still behaving like juveniles.
The first movie grossed £250m around the world and both films, according to Sandler, "have been a great excuse to hang out with my friends".
"I just love something that's [about] real life, and the way that can translate into a story," he says.
"All of us in these films - Kevin, myself, Chris, David and Salma Hayek, who plays my wife - have worked together before. When we made the first one, the cast and our families had one of the best summers of our lives - barbecues, sports - it was a huge bonding experience. That's pretty much the reason why we all signed up to do the second film."
This one, he adds, was similarly relaxed - "apart from having Taylor Lautner from Twilight around" - who has a cameo in the film.
"There were screaming girls outside the set every single day, even on the days when Taylor wasn't working. And also, he can do his own backflips. That creates its own kind of male tension."
Although Sandler jokes "we all turned up to this on the first day without any kind of script", he says most of his productions are collaborations, with "me and whoever I am writing with, making up jokes, firing them off and seeing if they work".
"We couldn't help but improvise on this one once we got on set. Kevin and I have worked together on about five movies already, we just have that connection," he says.
"I know I work with the same people over again, but I believe that friendship produces something natural in comedy, something special."
Brooklyn-born Sandler first found fame in the early 1990s as a stand-up comedian, then as a performer on the hit TV series Saturday Night Live, before moving into film.
He gained a Golden Globe nomination in 2002 for his performance in Paul Thomas Anderson's Punch-Drunk Love, but Sandler is best known for having written or starred in a string of so-called "gross-out" comedies, including I Now Pronounce You Chuck and Larry, Just Go With It and You Don't Mess With The Zohan, co-written with his former flat-mate Judd Apatow.
He frequently plays characters with a problem of accepting their adult responsibilities. Is that something he struggles with himself?
"Well, you show me a man who ever wants to grow up," Sandler says.
"I think we're trying to show that you should have fun at any age.
"Just because I've passed a certain age - like 40, for example - doesn't mean I should be sitting back in my chair, looking at a youngster having all the fun, whether it's in film or in real life.
"It's an attitude, a joy towards life that we're expressing.
'Everyman'
"I never feel like a grown up even now, apart from when I am being a parent to my two daughters. That's when I catch myself behaving like my own parents did towards me. That's the comedy of life, I guess."
Despite winning both worst actor and actress Razzie awards in 2012 for the film Jack and Jill, where he plays twins, only one Sandler movie has recently failed to live up to commercial expectations - 2012's That's My Boy, a father-son comedy which only made $60m (£39m) in cinemas worldwide.
His co-stars have their own ideas on why he remains such an enduringly popular figure, particularly with the American public.
"He is one of the nicest, most talented, funniest actors around, and what you see is what you get," says Dugan.
"He's an everyman that the public can relate to, he's just a normal guy. He has a hard time from the critics, but I hope he just shrugs it off."
Sandler is currently collaborating with actress Drew Barrymore on a third romantic comedy - to be released next May - following the success of previous films 50 First Dates and The Wedding Singer.
Success, he says, is still something he chases with every film he makes: "I wasn't particularly competitive at school, but with films I just love it - it's the best thing in the world no doubt about it.
"I just want to carry on for as long as everyone is having a good time with them."
Grown Ups 2 is on general release from 9 August.