Janet McTeer and Stephen Rea join Honourable Woman cast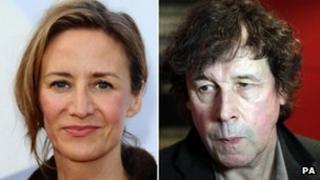 Oscar-nominated actors Janet McTeer and Stephen Rea have joined the cast of BBC Two's upcoming thriller series, The Honourable Woman.
They will appear alongside US star Maggie Gyllenhaal in the seven-part drama to be screened next year.
McTeer, who was up for Academy Awards for her roles in Albert Nobbs and Tumbleweeds, will play the head of MI6.
Rea, who was nominated for an Oscar for his performance in The Crying Game, will play a spy.
The series is set against the backdrop of the Israeli-Palestinian conflict.
Gyllenhaal will play Nessa Stein, the daughter of an arms dealer-turned successful businesswoman.
She was nominated for a best supporting actress Oscar for her role in 2009 film Crazy Heart.
The Honourable Woman has been written and will be directed by Hugo Blick, who won a Bafta for directing the BBC Two noir thriller The Shadow Line and also co-created the Rob Brydon comedy Marion and Geoff.
Other cast members include Lindsay Duncan - who plays Rea's bitter ex-wife - Andrew Buchan, Katherine Parkinson and Eve Best.
Best and Rea both appeared in The Shadow Line.
The Honourable Woman will also be screened in the US by the Sundance Channel, which is co-producing the drama.
Production begins in London next week.