John Lloyd makes Edinburgh Fringe debut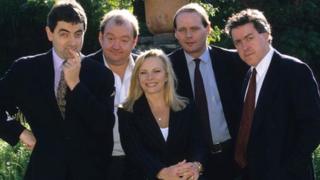 Writer and producer John Lloyd is the man behind such TV comedies as Not the Nine O'Clock News, Spitting Image and QI. Now he is tackling the mysteries of life in his first solo comedy show.
"Is a rock alive?" John Lloyd is looking at me as if he expects an answer. "Hmm." He ponders his question.
"Barley? Is barley conscious?" Errr... "Hmm. Could be."
Although Lloyd is a bona fide comedy giant, having steered some of Britain's funniest TV shows, he does not seem to be joking.
Let us rewind a bit. John Lloyd is doing an interview about his Edinburgh act, the first live comedy show of his career.
He is sitting in a quiet cranny in a BBC office while waiting to go on the BBC Breakfast sofa. It is far too early for conversations about the conscious state of inanimate objects.
Lloyd nearly made it to Edinburgh at the start of his career. He performed with the famous Cambridge Footlights sketch troupe but was sacked before they travelled to Edinburgh, he says, because he was too funny in a production of Jean Cocteau's drama The Infernal Machine.
Instead he got a job writing and performing in Radio 4 sketch show Oh No It Isn't, leading to a career that has involved creating, writing, producing or presenting The News Quiz, The Hitchhiker's Guide to the Galaxy, Not the Nine O'Clock News, Spitting Image, Blackadder, QI and The Museum of Curiosity.
He has now been persuaded to take a show to Edinburgh after a successful stand-up comedy slot at a charity event last year.
"I wouldn't call it stand-up," he says of his Edinburgh show. "It's just a bloke talking and telling stories and jokes and things."
Sounds a bit like stand-up to me. "I'm not attempting to compete with friends like Bill Bailey or Sean Lock or any of those big hitters," he continues. "This is a tea time show and it's relaxed and pleasant."
His show is titled The Liff of QI - which, as well as being a play on The Life of Pi, is a reference to two of his creations.
He published the book The Meaning of Liff with his friend Douglas Adams 30 years ago, a spoof dictionary in which place names were given new meanings. (Naples, for example, was defined as "the tiny depressions in a piece of Ryvita".)
QI is the panel show in which Stephen Fry and guests attempt to be quite interesting.
Lloyd says he has built his career on taking "things that look a bit boring, like medieval history in Blackadder or politics in Spitting Image, and turning them into something that's intriguing and funny".
In his Edinburgh show, he will attempt to explore some of deeper questions of the universe under the guise of comedy.
"It's a mixture of trying to work out liff, life, the meaning of life, what the hell's going on, what are we doing here, what's the point of anything?" he says. "Why do people behave as they do? Why are things funny?
"I'd like people to go away feeling they haven't wasted their tea time, because I think people are generally going around life with a bag over their head. They're a little bit bored, a little bit cross, a little bit confused, they don't know what the point of much is.
"I've thought about these things a lot. I'd like people to go away with something useful, rather than just funny." He adds with a hint of sarcasm: "It's a self-help seminar, let's be honest."
In The Hitchhiker's Guide to the Galaxy, the computer Deep Thought spent seven-and-a-half million years working out the answer to life, the universe and everything. Its answer was the number 42.
After his 61 years, Lloyd talks a lot about the mystery of what makes something funny and suspects that if we could work out the secret of comedy, a lot of other things may become clear too.
"Jokes are a lot about meaning," he says. "I think if we understand what jokes mean and why they work, we'd understand everything else. Genuinely I do.
"Jokes. Consciousness. Gravity is another one." He mentions these three things a couple of times as examples of great mysteries of the universe.
"Life. It's very difficult to identify what it is. Is a rock alive?" This is where we came in. "Hmm. Barley. Is barley conscious? Hmm. Could be."
I would say probably not. "Well, you'd be surprised."
I must admit I struggle to follow his theory about barley. Given his ferocious intellect, I must assume this is down to my stupidity and the time of the morning rather than his crackpot ideas.
Despite four decades in the comedy business, Lloyd says he has not solved the mystery of what makes something funny.
"I've no idea," he says. "I know it when it's funny, I'm very good at that. I can tell you why it's not funny. But why a thing is funny is extremely difficult.
"You can analyse a joke and say it's funny because this guy thought this was going to happen, and that happened, and it's surprising. But not all surprising things are funny.
"Do you know that biologists can't tell the difference between a live hamster and a dead one?" Errr...
"Do you know that botanists can't tell the difference between broccoli and cauliflower? You and I can, but they can't."
Lloyd seems like someone struggling to make sense of a universe full of quite interesting information. He is making the point that some things that appear obvious cannot be scientifically explained - like whether something is funny or not.
"You can see with your own eyes they're completely different. What's going on?"
John Lloyd: Liff of QI is at the Underbelly in Bristo Square, Edinburgh, from 31 July to 24 August.