Musicians suffer at BBC Proms as temperatures soar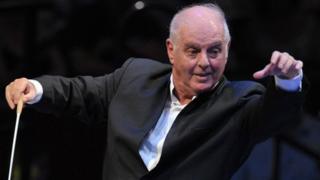 Musicians at the BBC Proms have battled soaring temperatures inside the Royal Albert Hall as the UK faces its first prolonged heatwave since 1997.
Wagner's Das Rheingold, which lasted nearly three hours, was performed on Monday, when temperatures in London reached 33.5C (92.3F).
"It was hot as Hades," one audience member tweeted, saying it was "crazy" to see the orchestra in "tails & ties".
But one musician said he had chosen not to perform in informal attire.
"In such a traditional, breathtaking architecture like the Royal Albert Hall, I think it wouldn't be appropriate," violist Wolfgang Hinzpeter told BBC Radio 3's In Tune.
In his review, the Financial Times' Richard Fairman praised the "warm and cultivated" performance but warned visitors about the "sweltering heat".
The Staatskapelle Berlin orchestra performed the first part of Wagner's Ring Cycle, conducted by Daniel Barenboim, alongside 14 singers.
BBC Philharmonic trumpeter Gary Farr is playing at the Proms on Thursday night, alongside conductor Juanjo Mena and a troupe of Spanish dancers.
"It's going to be a sweaty one," he told the BBC News website. "The tailcoats are not ideal. We're acutely aware we're getting red-faced and dripping with sweat live on camera!"
Farr explained the temperature can also affect the pitch of brass instruments.
"[The string section] is probably fed up of us oscillating in pitch," he said. "As the concert gets hotter and hotter, we have to make sure the pitch doesn't go up."
Venue upgrade
Audience members who contacted Radio 3 said they would prefer the musicians to be more comfortable on stage.
"I was dripping in the circle, must have been awful on stage," said Tiffany Hore on Twitter. "I like white tie and tails, but pragmatism is good too!"
"I wouldn't have minded if they'd been wearing t-shirts, shorts and flip-flops," agreed David Hendy.
Speaking on BBC Radio In Tune, pianist Joseph Middleton said he preferred to wear concert dress for the Proms despite the discomfort.
"I like the feeling of putting on something smart that you wouldn't wear at other times," he said.
The Albert Hall, a Grade I listed building, has been in continuous use since it was opened in March 1871.
A spokesman for the concert hall told the BBC that plans are in place to upgrade the Victorian heating and ventilation systems.