Turner winner Richard Wright creates Tate window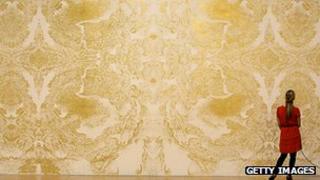 Turner prize-winner Richard Wright is designing a stained glass window for the main entrance to Tate Britain.
Wright specialises in site-specific artworks, painting huge frescos and intricate designs on public buildings.
He won the Turner in 2009 for a delicate gold leaf mural. Recently, he put 50,000 stars on the roof of a gallery in Amsterdam's Rijksmuseum.
His stained glass window will be unveiled when the main entrance to Tate Britain re-opens on 19 November.
It marks the end of a £45m facelift, which has seen nine galleries refurbished along with the entrance area and other public spaces.
The galleries opened in May, revealing a chronological display of British art from 1500, arranged in a promenade around the building.
Tate Britain has also announced that its restaurant will re-open in November, with a new ceiling mural by Alan Johnston to complement the existing mural by Rex Whistler.
Other features to be unveiled include a new spiral staircase and a dedicated entrance for school parties.
The Millbank entrance will also gain a temporary exhibition space. The first display will look at the site's history as a prison.
The multi-million pound renovation was funded by a £4.9m grant from the Heritage Lottery Fund and £1m given by Tate Members. The remaining money came from private benefactors.
Donors included oil trader Ian Taylor, the Sainsbury family and the estates of business figures such as Sir Isaac Wolfson and Sir John Paul Getty.
Tate Britain was opened in 1897 after Henry Tate offered his art collection - along with a gallery to house it in - to the nation.
It is visited by around 1.5 million people every year.