Composer of the Week celebrates 70th anniversary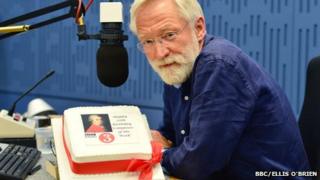 BBC Radio 3 programme Composer of the Week is celebrating its 70th birthday this week.
Starting life as This Week's Composer on the Home Service in 1943, the programme is among the longest-running in the corporation's history, behind Desert Island Discs which started a year earlier.
As part of its celebrations on 2 August, Composer of the Week has asked listeners to nominate a composer that has never been featured before, with the winning selection to be the subject of a special broadcast at Christmas.
Donald Macleod has been the regular presenter since 1999.
It's amazing to think that Composer of the Week is 70 years old now isn't it?
The programme then was only half an hour long and they didn't really bother much with information really, it was very high-handed, "Here's a dose of medicine, it's good for you, sit up and take notice".
People weren't led through the composers lives in the way that we now do, it was a bunch of discs punctuated by little bits of speech.
One of the early scripts I saw for Schubert in one of the earliest weeks started off by saying: "This weeks composer is Schubert, Schubert wrote a great many songs, here is... German title given without translation..." and then, unbelievably, they played a version sung in French.
What has been the secret to its longevity?
I think its the connection between the music and the lives really, which is a slightly dodgy area in some ways. I try to tell the stories punctuated by music and of course there are places where at this time, X wrote this piece of music in a reaction to Y, but it isn't the case that Mozart had a very bad day and wrote a sad piece of music or someone died.
There are pieces by the likes of Dvorak and Smetana, and a great many other composers, written in reaction to really tragic things that happened in their lives.
There are so many great stories. The story of Beethoven's life is fantastic, so you only have to tell them and combined with - let's face it - some of the greatest music ever composed, what's not to like?
In your 14 years, are there any particular programmes that you have been proud of?
I wouldn't say that I'm particularly proud of any of them, I hope I do my job as well as I can. It's a team effort, this isn't a one-man band. But some of the things most memorable to me is when they let me out of my little box and I get to go somewhere.
Going to Venice to make a series of programmes about Monteverdi or going to the States to make a programme about the MacDowell Colony. That was amazing because that's a place that only the privileged initials of the BBC can get you into, and only then because it was its 100th anniversary.
Its an artists' community in New Hampshire and its closed [to the public]. Artists go there - they apply and they get to spend between three weeks and three months either beginning something or finishing something and it's a magically beautiful place. To be able to wander around for a day in this place, that has been off limits for 100 years, was really amazing.
We're in Proms season, is there a spike in interest about classical music at this time of year?
There always is, it's completely inexplicable to me. I don't think that anybody else has really counted for the fact that during the Prom concerts, the Radio 3 audience doubles. When the Proms end - even though virtually every other night in the year there is a live concert, or recorded as live, on Radio 3 - they just don't have the impact of the Proms.
There seems to be a concerted effort to draw a younger audience to the Proms with the Doctor Who prom and this years's first, the urban music prom. Is this the way for the art form to survive, by targeting young people?
It is a huge worry when you go to concerts. I'm now a man of a certain age with white hair and when you look at a sea of white hair all around you, it is kind of depressing.
There is the problem that its very expensive to go to a concert and sit in a good seat. But there has to be some hope in that my own daughter - on whom I have not foisted any of this stuff at all - said two or three months ago, "Dad, this classical music thing, I think I would like to get interested in it".
She asked for a reading list and I gave her a few CDs and she's been off listening to them. I was quite impressed by the reaction, she liked Wagner, surprisingly.
Is it just the term 'classical music' that puts young people off then? So many bands, for instance, use string sections on records.
Also there are so many gradations now between the stuff that happens in big expensive concert halls and things that happen elsewhere. A couple of months ago, I had my first ever experience of classical clubbing in a place I would never have otherwise set foot in, and I could see it was absolutely well-intentioned, but very odd.
There were only about 50 people in the place who could see the performers. The sound projection, because there was a guitarist and pianist, was not great and I just found it frustrating not to see - particularly what the pianist was doing.
I was probably the oldest person in the room and that has to be good, there was a whole bunch of young people there who wouldn't normally go to a classical concert.
It is a real problem, though. I'm very conscious that the audience of this programme conforms to the type of demographic you would imagine.
Quite how we attract younger listeners, I don't know, but I try not to put people off by using technical language about the music - I think that's very important. I think its just one of those things that people just come to later in life when they've got tired of other music."
We are seeing more classical artists playing at music festivals like Glastonbury, could that draw younger people in?
I think if you can get exposure to that number of people, particularly with someone like the pianist James Rhodes - he doesn't perform in concert halls and doesn't wear a penguin suit and talks to the audience. I've been to a couple of his gigs and I think they're tremendously engaging. There's a wonderful unpretentiousness to what he does.
It is ridiculous that we still have these conventions of orchestras turning up wearing 19th Century clothing. No wonder people think it's bizarre.
Composer of the Week is on BBC Radio 3 weekdays at 12:00 BST and repeated at 18:00 BST.