Just A Minute gets junior edition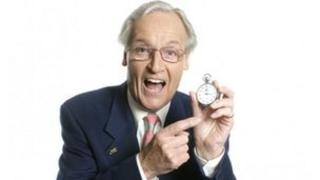 Radio 4 game show Just A Minute is to get a junior edition, with young fans forming the panel.
Nicholas Parsons will remain as host, asking contestants to speak on a single topic without "repetition, hesitation or deviation" for 60 seconds.
Youngsters aged between 10 and 13 will be paired with a more experienced adult for the new version.
Applications are currently being accepted online, and five episodes will be recorded in London later this year.
Comedians Jenny Eclair and Josie Lawrence will be on the panel, and the series will be broadcast on Radio 4 Extra "in the autumn".
The episodes will form part of the daily magazine programme The 4 O'Clock Show, which is presented by Mel Giedroyc from The Great British Bake-Off.
Now in its 46th year, Just A Minute is one of the longest-standing shows on Radio 4.
Parsons, 89, has never missed an episode, although he came close once when he got stuck in a lift.