Morrissey cancels South America tour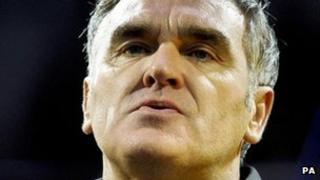 Morrissey has apologised to fans after cancelling the remainder of his South American tour due to a "lack of funding".
The former Smiths frontman had postponed 14 dates earlier this month after suffering from food poisoning.
Poor health has forced the singer to axe almost all of his tour dates this year, including his North American leg.
Writing on the fan site True To You, Morrissey said it had been a year of "too many disappointments".
"I am informed today that the projected tour of South America is snuffed out, thus euthanised - due, I'm reliably advised, to lack of funding," he wrote.
"It's quite easy to sell tickets, yet impossible to transport band and crew from F to G. This really is the last of many final straws and I am not alone in feeling this."
The singer went on to say his apologies for cancelling his tour dates were now so frequent, it was "somewhat ridiculous".
"It is agonising to be responsible for imparting such news - especially when it springs upon me unexpectedly and inexplicably. But the collapse of South America rings the curtain down with a colossal thud.
"Cancellations and illness have sucked the life out of all of us, and the only sensible solution seems to be the art of doing nothing."
In March, Morrissey cancelled his US tour following a series of what he called "medical mishaps".
The 53-year-old has suffered from a number of illnesses in recent months including a bleeding ulcer, Barrett's oesophagus and double pneumonia.
The South American tour had been due to end in Rio de Janeiro on 4 August.