Daleks to terrorise Doctor once more for 50th anniversary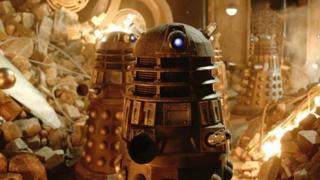 The Daleks are returning to Doctor Who for the show's 50th anniversary special, starring Matt Smith, David Tennant and John Hurt as the Doctor.
The show will be broadcast on 23 November, exactly 50 years after its first outing in 1963.
Billie Piper will return as Rose Tyler, while Jenna Coleman will continue as Clara Oswald. They will be joined by Gavin and Stacey star Joanne Page.
The episode will also bring back the villainous Zygons.
They last appeared in the show in 1975 with Tom Baker.
The programme's lead writer and executive producer Steven Moffat said: "The Doctor once said that you can judge a man by the quality of his enemies, so it's fitting that for this very special episode, he should be facing the greatest enemies of all."
The show was filmed earlier this year in Cardiff, with further footage shot in London at notable locations including the Tower of London and Trafalgar Square, where Smith was photographed dangling from the Tardis near Nelson's Column.
Speculation is still ongoing as to who will replace Smith as the next Doctor, after he announced in June that he was leaving the role.
Doctor Who was first broadcast on 23 November 1963 with a four-part adventure known as An Unearthly Child.
The show was originally commissioned by the BBC's head of drama Sydney Newman, and produced by Verity Lambert.