Original Just William radio star David Spenser dies aged 79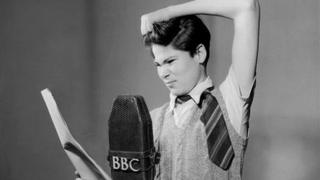 David Spenser, the child star who played Just William in the 1948 radio play and went on to work as an actor and producer, has died aged 79.
Spenser, who appeared in episodes of Z Cars, Dixon of Dock Green, The Saint and Doctor Who, also directed two 1991 documentaries on comic Benny Hill.
Former head of BBC radio drama John Tydeman said he was "a marvellous radio actor with a very distinctive voice".
Mr Tydeman said Spenser died on Saturday in Spain, where he had lived.
Spenser began his career aged 11 when he worked in plays on Children's Hour, having auditioned for the show's producer Josephine Plummer.
Mr Tydeman said he was then cast in the role of William by its author Richmal Crompton.
Spenser said of the era: "Difficult though it may seem today, radio actors and actresses were considered to be 'stars'. Their voices were as recognisable as faces in Coronation Street today. There was no television."
He added: "Radio was the friend in one's own home, giving one the news in a quiet sensible fashion, and entertaining one with music and zany comedy and drama."
After starring in various TV shows, he played Thonmi in six episodes of Doctor Who with Patrick Troughton.
They were broadcast in 1967, and titled The Abominable Snowmen.
He went on to work as a radio producer, producing plays for the BBC including Anthony Trollope's The Way We Live Now, in 1988, and Mr Norris Changes Trains, based on the Christopher Isherwood novel, in 1984.
His historical drama City of the Horizon, about the Pharaoh Achnaton, was broadcast in 1972 and 1976.