Rolling Stone's Boston bomb suspect cover sparks outrage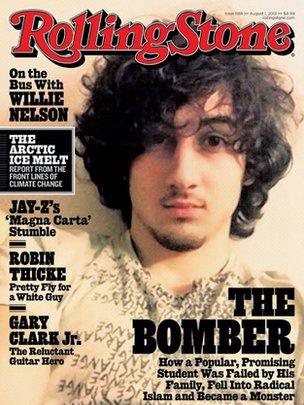 A Rolling Stone magazine cover featuring Boston bomb suspect Dzhokhar Tsarnaev has caused outrage online.
Thousands of people posted on social media networks calling it "tasteless" and "disgusting".
The 19-year-old, who pleaded not guilty to all charges in connection to the bombings in April, is profiled in the forthcoming issue.
The image, which the accused posted online himself, has also featured on the front page of the New York Times.
But the magazine editors said in a statement that the article falls within the traditions of journalism and reflects the publication's commitment to serious, thoughtful coverage.
Rolling Stone added that many of its readers are in the same age group as the bombing suspect, and it was important for the magazine to explore the issue.
On Wednesday, two retail chains based in the New England region around Boston, said they would refuse to stock the magazine.
"What a disgrace, trying to make [Mr Tsarnaev] look like a rock star. Horrible," one commenter, Steve Simon, posted on Rolling Stone's Facebook page, where more than 5,400 people have commented in the 12 hours since the cover was revealed online.
On Twitter people said the picture of the suspect looked similar to an old cover featuring singer Jim Morrison of The Doors.
Singer Pink retweeted a message by radio presenter Ted Stryker who wrote: "Horrible, classless, stupid choice Rolling Stone. It's not smart or edgy. Very disappointed."
Boston punk band Dropkick Murphys, who recently donated $300,000 (£197,000) to victims of the bombings, also expressed their anger.
"Rolling Stone you should be ashamed," the band tweeted. "How about one of the courageous victims on your cover instead of this loser scum bag!"
Janet Reitman, Rolling Stone's contributing editor, spent two months interviewing Mr Tsarnaev's friends and family as the basis of the article.
Mr Tsarnaev, faces 30 counts of using a weapon of mass destruction in the two 15 April blasts that killed three, including an eight-year-old boy.
More than 260 people were injured at the Boston Marathon when two pressure cooker bombs packed with nails, ball bearings and other shrapnel were detonated at the finish line.
It was the worst mass-casualty attack on US soil since 9/11.
Prosecutors could press for the death penalty for 17 counts.
Related Internet Links
The BBC is not responsible for the content of external sites.