Michael Jackson gigs set to make $1bn, US expert says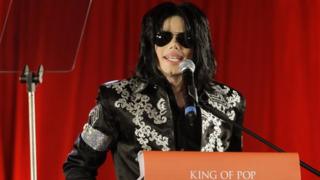 Michael Jackson could have made more than $1.1bn (£726.9m) on his This Is It comeback tour, a financial expert has told a court at the singer's wrongful death trial in the US.
Accountant Arthur Erk said he used conservative estimates to determine Jackson's earning potential.
But his calculations did not include the singer's $400m (£264.6m) debt.
Katherine Jackson, who is suing music promoters AEG Live for $40bn (£26bn), was heard for the first time in court.
In a video statement, the singer's mother said she was surprised when Jackson announced the This Is It concerts in London.
"He didn't want to be doing the moonwalk on stage when he's over 50," she said in a short clip of her out of court testimony.
But Mr Erk, who has worked with musicians including Britney Spears and rock band Kiss, said Jackson had considered a Las Vegas show based on his music and archive footage.
"Demand was so wild that he probably could have charged more for tickets and still sold out," Erk told the court.
Jackson had signed on for 50 shows in London before he died in June 2009, but contracts for the shows indicated a longer 37-month tour was a possibility.
The singer's family are in the process of presenting figures to jurors to calculate potential damages, if the jury should find the company liable for the singer's death.
The defence lawyer for AEG Live, which denies any wrongdoing, questioned the figures, claiming they did not account for the singer's lavish spending habits or his $400m (£264.6m) debt.
The trial, currently in its 12th week, is expected to last until the end of July.