Actress Lynda Bellingham has cancer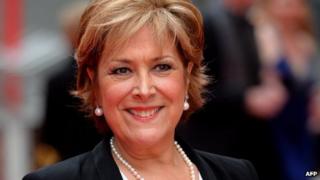 Actress and presenter Lynda Bellingham has been diagnosed with cancer.
Bellingham, 65, is known for shows such as All Creatures Great and Small, and Loose Women, as well as the Oxo TV adverts screened in the 1980s and '90s.
The star has postponed a UK tour of Kay Mellor's play A Passionate Woman to have treatment. No further details of her condition have been made public.
"I'm devastated not to be able to honour my commitments to the play this year," she said in a statement.
"But having toured many times before, I'm aware of the sheer stamina needed and I need to prioritise my recovery.
"That said, nothing's going to stop me coming back next year, and I can't wait to be 'a passionate woman'."
Bellingham also currently presents Country House Sunday on ITV, a weekly show in which she explores stately homes around the UK. The series has already been recorded and the remaining eight episodes will be broadcast as planned.
She is a regular panellist on Loose Women and was a contestant on Strictly Come Dancing four years ago.
The Oxo TV commercials, which ran from 1983 and featured Bellingham as the mother in a squabbling family, became a national institution.
Other career highlights include playing Helen Herriot in All Creatures Great and Small and Faith Grayshott in the sitcom Second Thoughts, which began on BBC Radio 4 in 1988 before transferring to ITV. She returned for the sequel Faith in the Future in 1995.
Bellingham has been a high-profile supporter of Cancer Research UK and Macmillan Cancer Support since her sister, Barbara, died from lung cancer.
The tour of A Passionate Woman was scheduled to begin at the Sheffield Lyceum in September.
Health priority
Sheffield Theatres artistic director Daniel Evans said: "A Passionate Woman is an extraordinary play about an extraordinary woman, and that woman is Lynda Bellingham.
"She is the heart of this production, and it's inconceivable that we would do it without her. Our priority is to Lynda and her health, and we look forward to welcoming her back soon."
Kay Mellor, who was to have directed the production, told BBC Radio Leeds: "It's really sad, I can't believe that a woman so vibrant could be so poorly.
"The play will wait, Lynda has to get well, that's where my thoughts are now. She's a mother, a wife, a sister. Those things are much more important than a play."
Bellingham has two sons and married for a third time on her 60th birthday in 2008.