Stars pay tribute to Glee star Cory Monteith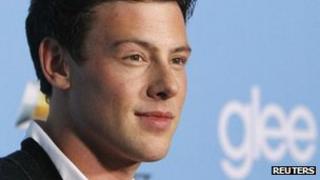 Showbusiness colleagues have paid tribute to Glee star Cory Monteith who was found dead in a Canadian hotel.
A statement from Fox, the TV network behind Glee, issued a statement calling Monteith "an exceptional talent and an even more exceptional person".
"He was a true joy to work with and we will all miss him tremendously."
The 31-year-old actor, who played Finn Hudson in the award-winning comedy drama, was found dead at the Pacific Rim Hotel in Vancouver on Saturday.
The cause of death was not immediately apparent, and a post-mortem examination is expected to take place on Monday.
Speaking to reporters on Saturday, Vancouver's Deputy Police Chief Doug LePard said he would "not discuss anything that we might have found in the room at this time".
Monteith, who had struggled with serious drug addiction since he was teenager, voluntarily entered rehab in April this year.
After leaving treatment, he tweeted: "Sending out big love to everyone. Thank you for the continued support! It means the world to me! :)."
'Heartbreaking'
Monteith had been in a relationship with his Glee co-star, Lea Michele. The pair's on-off on-screen relationship was one of the show's long-running storylines, and they were reportedly planning to marry in real life.
Michele has not commented publicly - her PR agency asked "that everyone kindly respect Lea's privacy during this devastating time".
Singer Taylor Swift - who briefly dated Monteith in 2010 - led the tributes, writing on Twitter: "Speechless. And for the worst reason."
Rihanna tweeted: "Cory Monteith, may your spirit be at peace, and may you fly with the angels... Heartbreaking, my prayers are with all of his loved ones!"
Veteran actress Mia Farrow added: "Rest in peace Cory Monteith. Sad, very very sad."
A host of his Glee co-stars joined in the tributes on Sunday.
"How sad to read about Cory Monteith passing away. What a shame. He was a lovely, kind, talented guy and will be missed," wrote Neil Patrick Harris, who won an Emmy for his guest role on the show.
"RIP Cory Monteith," wrote fellow guest star Kristin Chenoweth. "You will be loved. Always."
Dot-Marie Jones, who plays the coach Shannon Bieste at Glee's William McKinley High, wrote: "I have no words! My heart is broken.
Mark Sailing, who plays best friend Puck on the show, simply tweeted the word "No". Iqbal Theba, who plays Principal Figgins, wrote: "OMG!! My Cory..."
Damian McGinty, who played Rory in the show, revealed Monteith was the person he shot his first acting scene with. "The nicest guy I've met," he added. "Can't believe it."
Former co-star Josh Sussman called it "a tragic loss". "He was such a great guy. Super-kind &warm," he tweeted.
The critically acclaimed show follows a group of American secondary school misfits who form the 'glee club' in their quest for singing contest glory.
Monteith played the school's star quarter-back who risked rejection by his team comrades to join the glee club.
The show, known for its extravagant musical covers and celebrity guest appearances from the likes of Gwyneth Paltrow, recently completed its fourth series.
One Direction singer Niall Horan described Cory as a "super nice guy" and said his thoughts were with the actor's loved ones at this difficult time.
Demi Lovato called Monteith's unexplained death "unbelievably tragic", while fellow musicians Nick Jonas and Miley Ray Cyrus tweeted that they were "praying for his family".
Monteith, who was born and raised in Canada, began acting in his late teens, having left school at 16.
His breakthrough role came in 2009, when he was cast in the pilot episode of Glee. The first series earned 19 Emmy nominations.
He had been expected to take part in the filming of the fifth series, due to air in the US in September.
"What an absolutely tragic loss of a very talented young man," wrote actress Zooey Deschanel. "A young talent gone too soon," echoed Oscar-winner Marlee Matlin.