Alan Whicker: 'A fantastic man'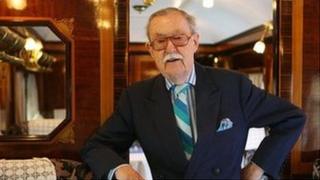 Alan Whicker, the journalist and broadcaster, died on Friday at the age of 87.
Whicker's career in television spanned almost 60 years. He was best-known for programmes such as Tonight and Whicker's World.
On-screen, a generation saw Whicker travel across the globe to many interesting places, allowing viewers a glimpse into the lives of others. Off-screen, friends described him as a charming and entertaining man, who loved to speak to everybody.
Those who met and knew Whicker, share their memories of him.
Audie Charles, London
I knew Alan for many years. I worked with Doug Hayward, Alan's bespoke tailor, and first met Alan in the 80s.
I remember him with his blazer, glamorous ties and his briefcase. He was intelligent, fascinating and funny.
Alan was a customer, but he also became a friend. He'd come in and sit down for a drink and always have interesting tales of places he'd been or people he was going to meet.
He was a great raconteur, but also a great listener. He was a sponge for stories and would remember things that people told him.
Valerie used to come with him sometimes. He couldn't have lived without her. She was amazing. I remember about three years ago they came into the shop and went to have lunch nearby. I took a photo of them as they looked so happy together.
Alan was a true professional and the cream of the BBC. No-one has had his magic and mischief since. What he has done for broadcasting will immortalise him.
Dave Brammer, Manchester
Alan Whicker was a real hero of mine. I watched just about everything he ever did - not only the travelogues.
Over 30 years ago I had just started volunteering at a hospital radio station in Manchester when I came across an article he had written. It was so funny I thought I would write to him and ask if he would do a phone interview for the radio station.
Alan wrote a lovely letter back to me saying that he would be delighted to do the interview. I called him and ended up recording a piece which was thoroughly entertaining.
A couple of years later he brought out an autobiography. I wrote to him again, asking if it would be OK if we dropped in on him on his book tour when he was in the area.
Not only did he remember me, but I got to record a face-to-face interview with him and shake his hand.
Having interviewed Alan on the phone, and then having met him in person, I can say that he did not disappoint. He was a fantastic man.
Alan was very approachable and had a way of putting you at ease. He was pure class and a quintessential English gentleman.
Clive Stanhope, London
I produced Alan Whicker reading an audio book of his autobiography about 10 years ago. It was his first time doing an audio book and he enjoyed the experience.
He was always very affable, pleasant and easy to deal with. He was happy to be pulled up on things, although he was very fluent and made few mistakes.
The only thing I remember him not being happy with was the studio. He was used to TV studios and didn't find the studio we were using to record the audio book particularly glamorous!
I also remember that during the recording, in between takes, Alan decided to clear his throat. My PA who had come along to watch said that he should never clear his throat because it made matters worse. He replied: "My goodness I have been broadcasting for 50 years and that is the first time I have been told that!" He never cleared his throat again during the recording.
I was a great fan of Alan's. He was always very classy.
Stephen Wilson, Jersey
I've seen him lots of times, I live in the same parish as him and I've seen him around town.
He was very well-known on the island. He's always been very dapper.
I was on the same flight as him, five years ago, from Jersey to London Gatwick. He wasn't flying in club class.
He also signed books for me in September 2009 at Waterstones in St Helier. He was a gentleman. His partner Valerie had a Whicker's World jumper on.
A lot of people have learned a lot from his programmes.
My favourite programme of Alan's was the one where he interviewed Papa Doc - it was amazing he was able to get access to the notorious Haitian dictator 'Papa Doc' Duvalier.
David Green, Los Angeles, USA
He was a television giant. I made my first of 24 films with him as a director in Alaska 36 years ago next month.
He immediately put me at ease socially the night I arrived but tested me fiercely the next morning as I led my crew into battle with the first day of interviews and pieces to camera, which he was always loathe to do believing that the interviewees were the stars.
What do I want him to do? Why? What's the story? How will it cut together? - Not a stone was left unturned.
He was a true original whose passion for TV and life was unique. A brilliant, popular journalist and observer of the human state who achieved legendary status among his peers and was loved by the great British public.
Behind the hundreds of Whicker's World documentaries were an army of television professionals who learnt at the feet of The Master. I was lucky enough to be one of them and, like many others, carried his command of his profession into every moment of my subsequent career.
He was a brilliant interviewer - detailed, meticulous and totally dedicated to his craft, with a strong sense of story and an even stronger sense of what made people tick.
And back in the cutting room, he worked round the clock to perfect every moment of footage before adding his own unique brand of clever, witty, inimitable commentary. He called his films signed documentaries, and indeed they were. We will never see his like again.
Bill Perrett, Northampton
I had the real pleasure of meeting Alan when the company I worked for were publishing one of his books. He invited me to his home in Jersey.
When I arrived at his house, he greeted me at the front door. On the way to the main room I remember that there was a wall covered with photos of his travels. I just wanted linger and and look at these fantastic photos.
What remains with me to this day is that the book was a tie-in with a TV series set in Australia. He asked if I wanted to watch one of the programmes and I said I'd like to watch the first one. Alan explained to me that the first episode was not yet completed with his voice over, but said it was no problem. I ended up watching the programme whilst he did the commentary reading from a script. He was first-class.
Valerie, his wife, invited me to stay for lunch afterwards with the two of them. Alan liked his bubbly and we enjoyed a couple of glasses.
Alan was anybody's man - he was a man who spoke to each person on their level and could really connect with them.
He was a real gentleman and I have lovely memories of that day.