Samuel Beckett manuscript sells for £962,500 at auction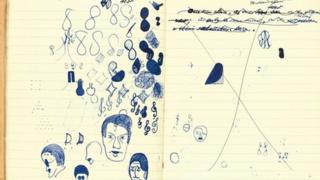 A manuscript of writer Samuel Beckett's first novel, Murphy, has sold for £962,500 at an auction at Sotheby's.
The University of Reading, which bought the manuscript to add to its collection of more than 500 manuscripts and drafts, said it was "thrilled".
The six school exercise books containing doodles and passages from the classic text are the first drafts of the author's first major work.
The University's Prof James Knowlson said it was "the icing on the cake".
The purchase will be funded by selling other items owned by the institution, spokesman Pete Castle told the BBC News website.
"We're going to juggle our collection in order to make this significant investment in a key area for the university's special collection," said Mr Castle.
Prof Knowlson, who bid for the manuscript on behalf of the university, said it was the most important manuscript auction for the last few decades.
"It really is the single item that was in private hands for over 50 years that we wanted to have the most," he said.
Sotheby's manuscript specialist Dr Gabriel Heaton said the notebooks provided a "unique insight" into Beckett's mind.
The manuscript, originally titled Sasha Murphy, contained revisions, doodles and sketches of Charlie Chaplin and author James Joyce.
"We've counted eight different versions of the opening sentence," said Dr Heaton.
The novel, first published in 1938, tells the story of the title character Murphy and his desire to withdraw from life.
Dr Heaton said the manuscripts show the first time Beckett explored major themes such as "the desire to retreat from human contact" that recur throughout his works.
Written on cheap school exercise books, the notes show the author's corrections and revisions as he was "trying to get started".
"There's such a contrast between the simple appearance on the outside and the wonderful annotated corrected manuscript - all these words spewing from Beckett as he writes this first masterpiece," Dr Heaton added.
Last year, a first edition of Murphy was sold at auction for £12,000 after it was donated to an Oxfam charity shop in Berkhamsted, Hertfordshire.
Beckett won the Nobel Prize for literature in 1969 for "writing, which - in new forms for the novel and drama - in the destitution of modern man acquires its elevation".
The manuscripts, which were given to Beckett's friend and fellow writer Brian Coffey, were bought by a private collector in the 1960s and later sold by his estate.