Despicable Me 2 holds UK box office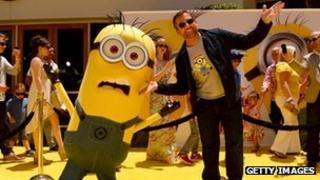 Animated film Despicable Me 2 has held on to the top of the UK box office for a second week running.
The sequel about super villain Gru and his minions took £4m over the weekend, bringing its total UK tally to £23m, according to estimates.
Magic film Now You See Me, starring Jesse Eisenberg and Isla Fisher, opened in second place with £3m.
Another new entry, Vince Vaughn and Owen Wilson comedy The Internship, made £1.2m to take third place in the chart.
After three weeks at the box office, Brad Pitt's World War Z fell down to fourth place with earnings of £837,000, while the latest Superman film, Man of Steel rounded off the top five, taking £803,000.
Sophia Coppola's The Bling Ring, which follows a group of teenagers obsessed with fashion and celebrity, made £141,000 in its debut weekend.
The film, which is based on real events, was shown at 65 cinemas, averaging £2,000 at each one.
Singam II, a sequel to the successful 2010 Tamil action film, debuted at nine with £66,000, despite playing at just 14 screens.
The first Despicable Me film was a worldwide hit taking more than $543m (£355m).
The minions, the small yellow henchmen that feature in both movies, are to star in their own spin off feature film which will be released next year.
The sequel is also reigning atop the US box office, earning $82.5m (£55.4m) between Friday and Sunday.