Barbara Windsor in EastEnders 'special episode' return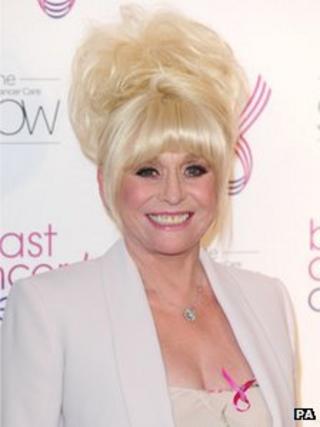 Barbara Windsor is to return to EastEnders for a one-off appearance in the autumn.
The actress, who played Peggy Mitchell for 16 years, left the soap in 2010.
She will return for a "very special episode" in which she comes to the aid of her eldest son Phil, played by Steve McFadden.
The actress said in a statement: "It may only be a short visit, but it's a family matter and as Peggy always said 'it's all about family'."
"It is no secret how much I have always loved EastEnders and Peggy Mitchell - and by the number of times I'm constantly stopped by the great British public and asked either 'when are you coming back' or 'please say get out of my pub', it seems they have too," she said.
Windsor's character left Albert Square after Phil, who had become a drug addict, set fire to the Queen Vic.
Her storyline saw her character leave Walford for Portugal, after deciding it was the best way for Phil to turn his life around.
Since leaving EastEnders Windsor has appeared in pantomime and presented a Radio 2 series on female comics
Her return to the soap will coincide with Samantha Womack reprising her role as Ronnie Mitchell.
The storyline will see Phil in trouble once again as Roxy Mitchell plans her wedding to Alfie Moon.
Lorraine Newman, executive producer of EastEnders, said she was "delighted" Windsor would return to the soap.
"Peggy's surprise visit is a wonderful treat for our fans, as well as the cast and crew here on EastEnders. It's great to welcome her home," she said.