Dr Who fans asked to contribute to major exhibition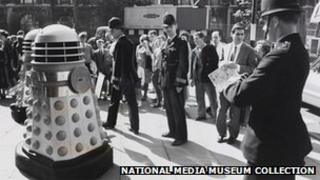 Fans of Doctor Who are being asked to contribute to a major exhibition at the National Media Museum in Bradford.
The exhibition will focus on fans' devotion and relationship to the show, which is now in its 50th year.
Exhibition curator Toni Booth said she was hoping people would contribute official merchandise they have collected over the years.
Also "more personal homemade objects - the kind of things which show a fan's love for the Doctor," she said.
Ms Booth added the museum also wanted to hear of any interesting stories fans had related to the programme.
"We want to know why you have this object, when you got it, and your feelings towards Doctor Who then and now," she said.
Fans have until 9 August to offer their memorabilia - the organisers will then make a final selection for the exhibition.
The 50th anniversary special of Doctor Who will air on BBC One on 23 November.
It will see the return of the 10th Doctor David Tennant, starring alongside the current Doctor Matt Smith.
In June, Smith announced he would be leaving the show at the end of the year.
Viewers will see his Doctor regenerate in the 2013 Christmas special.