Murray Wimbledon final draws highest TV audience of 2013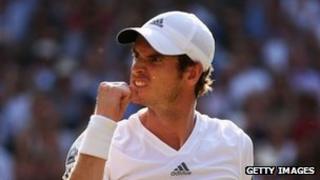 Andy Murray's straight-set victory in the Wimbledon men's final on Sunday drew the highest TV ratings of the year so far.
A peak audience of 17.3 million viewers tuned in to BBC One to watch Murray triumph over Novak Djokovic.
It is the highest audience for a Wimbledon final since at least 1990.
It also beat the 16.9 million peak rating and 11.4 million average for last year's final when Murray was defeated by Roger Federer.
According to an analysis of five-minute data, viewing peaked at 17:30 BST as Murray closed in on Djokovic, representing a 79.6% share of the total TV audience during the same period.
In Scotland, Murray's home country, the match drew a peak audience of 1.9 million - a 90% share of the total viewing audience.
An average 12.1 million UK viewers watched the BBC's entire coverage of the final between 13:45 and 18:00 for a 73% share.
Murray's semi-final victory on Friday was watched by a peak audience of 13.2 million.
Prior to Wimbledon, the most watched TV programme of the year was the Britain's Got Talent final in June with an average 11.1 million viewers and 13.1 million at its peak.
The UK's TV audience for the Olympics opening ceremony in July 2012 peaked at 26.9 million.
The average viewing figure for the four-hour show was 22.4 million, making it the UK's 13th most watched programme ever.
The biggest audience ever in the UK for a single programme remains the 30.5 million who tuned in to EastEnders on 25 December 1986 when Den Watts announced he was divorcing Angie - but the figures were compiled differently at the time.