Colin Murray to leave BBC Radio 5 for TalkSport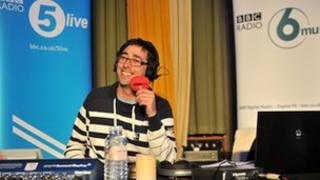 BBC presenter Colin Murray is to leave Radio 5 live to join rival station TalkSport.
Murray, who started his career on Radio 1, will join TalkSport in August to present a weekday sports show.
He said he "made the difficult decision to turn down 5 live's offer of a new contract" after being given an "incredible opportunity".
"These are exciting times ahead, I will always be a huge fan of 5 live and continue to listen to the station."
Murray said of his new TalkSport show: "I'm truly excited about creating this programme, and I hope it will become the morning 'go to' for UK sports fans.
He added: "I have thoroughly enjoyed working on my 5 live shows and with the BBC team and look forward to continuing my relationship with BBC Sport TV and 6 Music."
Radio 5 live controller Jonathan Wall said: "Colin leaves with our very best wishes having done such a good job on Fighting Talk over the last seven years, and on 5 live Sport over the last four years, especially during the Olympics."
Murray's show will begin on Monday 12 August and will run from 10:00 to 13:00 every weekday.
TalkSport's programme director Liam Fisher said: "Colin Murray is a hugely talented sports broadcaster who brings further experience and creativity to our fantastic line-up."
It was announced in January that Murray would also be replaced by Mark Chapman as host of TV show Match Of The Day 2.
Chapman, another ex-Radio One voice, will take over the role when the new Premier League season kicks off in August.
News of Murray's 5 live departure comes a month after the BBC had to apologise following a discussion about "curing" Clare Balding of homosexuality on Murray's live show Fighting Talk.
The comments about sports presenter Balding were made during a game called Defend the Indefensible as part of Fighting Talk.
Some 5,000 people were in attendance at Liverpool's Echo Arena to watch the live broadcast as part of 5 live's Big Day Out that was also streamed online.
Murray introduced the round of the game, saying "no matter what I say you have to defend the indefensible".
He went on to ask comedian Bob Mills, a regular Fighting Talk panellist, to comment on the statement: "Give me 20 minutes with her and I'm sure I could turn around Clare Balding."
Mills stated that Balding, a sports presenter and former jockey was a "horse woman," adding: "The one thing Clare appreciates is a bit of power between her thighs.
"All I am saying is, there is not a woman in the world who cannot be cured," he added, amid a number of boos from members of the audience.
In a statement, a BBC spokeswoman apologised saying: "Fighting Talk is a live programme and on this occasion we got it wrong.
"The Defending the Indefensible item was inappropriate and as such we have removed this short section of the programme from iPlayer," she added.