Icona Pop: The break-up behind I Love It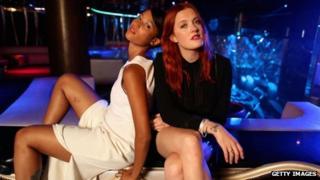 Stockholm pop stars Icona Pop are at number one with the exuberant summer anthem I Love It.
A frenetic break-up fantasy, it finds Caroline Hjelt and Aino Jawo screaming: "I crashed your car into a bridge. I don't care - I love it!"
First released in Sweden last May, it has had a tortuous journey to the top of the charts - as detailed by music website Popjustice earlier this week.
Aino spoke to the BBC about the delays, and the band's forthcoming album.
Congratulations on getting to number one.
Thank you! We're really pleased.
What took you so long?
In the beginning, we were only supposed to release it in Sweden. Then the bloggers started to spread it and suddenly people in Australia were craving it. Then America jumped on that train, so we were so very busy.
In the UK, you have Radio 1 and that's your big station, but in America you have 30,000 radio stations. So we've been basically going to every station and saying, 'hey, this is a really good song - you should put it on, because otherwise you'll regret it!'
It was featured in US cult comedy series Girls. How important was that?
Girls made a huge difference. TV reaches out to another type of person, not just the ones listening to radio in their cars. It was amazing - that made our song go up into the iTunes top 10.
How did the band start?
We met in 2009. I was heartbroken and had been lying in bed for two weeks. A friend basically forced me to go out. She said, 'you have to do something, just come to this party and have some fun' - and it was Caroline's party.
We didn't know each other but we just instantly started to talk. We ended up going out and dancing all night, and the next day she said 'we should really write some music'. So I went over to her place with my computer, and we sat down and we wrote a song.
What was that first song?
It was called The Sheriff Came To Town On A Big Black Horse! It was this Spaghetti Western sort of song. We called it a mix between Tarantino and the Sugababes.
After that, we decided to start a band. Two days later, we booked our first gig. One month later, we played that gig.
It sounds like you just clicked.
Yes, I'm so lucky. The creative process can be scary with new people. But with Caroline it has been magic from the first date until now. I think you meet a couple of those kind of people in your life.
How soon after that did I Love It come about?
I Love It happened about two years ago. We both were going through some really hard love drama. It was chaotic in our lives - but we were in the studio recording another song, Good For You, when our producer Patrick showed us a really rough version of I Love It.
It was written by (British goth-pop singer) Charli XCX but we were instantly like, 'woaaah, what is that? It's exactly what we're going through right now'. So we asked if we could have it - and she was very happy to let us re-do it like Icona Pop. So we put in our shouty choirs, and the new production.
The shouting is pretty important, isn't it?
We want people to feel the anger behind it. People hear we were going through love drama, and we were pretty tough and angry.
It feels good when we meet those pigs and we can thank them because they were a big reason behind it.
Was this the same boyfriend that had you confined to bed for two weeks?
Yes, I would say that. It's a combination of him and others. But I'm happy I got dumped, because then I wouldn't have met Caroline.
Have you ever deliberately crashed a car into a bridge?
I've done it in my head many times, but never for real.
How many times did you have to take your driving test?
I still haven't made it! That's why I'd crash the car.
In the best possible way, I Love It is very repetitive. How important is that in a pop song?
The hook is always important. It helps people remember. I love it when you watch a band at a festival and the third time you hear the chorus you can sing it. It's like, "woah, I know this song now".
You've attracted a lot of celebrity fans. Who's the most impressive?
Florence from Florence and the Machine did a cover and, in her own way, that was so beautiful.
Nicole Kidman and Drew Barrymore were talking about it, too. There's a lot of strong women talking about it, and that's what makes me happy. It's hard enough to be a woman in the music industry, so to have strong women supporting us means a lot.
You once told Pitchfork you had enough material for five albums. Where are they, then?
We didn't want to release an album if there's not enough people to listen to it. That's just a waste of music. But now we feel we have got that - people want to know who we are.
The next single, Girlfriend, samples the old Tupac song Me And My Girlfriend. What made you choose that?
We are huge Tupac fans. We made a fun twist: He was singing about his gun, and we're singing about our friendship.
We actually had to write a letter to Tupac's mum to ask if we could use that part. We sent her the song and she liked it. We're very honoured to be able to use it.
Usually that sort of request would got through the record company - but you actually sat down and wrote a letter?
It was an email but we asked her personally. It makes more sense. It's a very sensitive thing. He died way too young.
Who else have you been working with?
Dillon Francis (Justin Timberlake), Stargate (Beyonce, Katy Perry), Benny Blanco (Bruno Mars), Shellback (Taylor Swift) and then our favourite Elof Loelv (Rihanna).
So it's a proper pop album?
It's going to be a massive pop album!
Why is Sweden so good at pop music?
We get that question a lot - and we think it's something in the water. Or maybe because it's so cold here you've got to dance to stay warm!
Does everyone study pop at school?
You get to choose, and if you want to go to a music school it's free. So that could be a reason why.
But I think maybe it's more that Swedish people are very good at writing bittersweet melodies. The mentality is called "Lajom". It's a Swedish word that doesn't exist anywhere else.
That bittersweet quality is true of so many Swedish acts - Abba, Robyn, The Cardigans...
Oh, we worked with Peter Svennson from The Cardigans on our album! He's an amazing cooker.
What's his speciality?
He likes to eat a lot of good meat. I don't eat that much meat, but he does really good chicken and fish.
And what's your speciality?
I'm the worst cook. My speciality is toast and, er… sandwiches. Sandwiches are my best friends.
I Love It is out now on Atlantic Records. Icona Pop play XOYO in London on 9 October, with an album due later this year.