The xx downsize for tiny Manchester concerts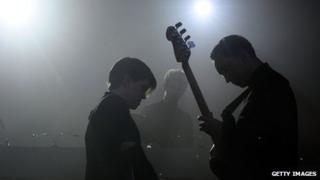 A week ago, Mercury Prize-winning band The xx were playing to tens of thousands of fans at the Glastonbury Festival. Now, as part of the Manchester International Festival, they are performing to just 60 people at a time.
Jamie Smith, one third of The xx, is doing his best to give away as little as possible about the secret venue where his band are playing 18 gigs over the next two weeks.
Ticket-holders only know that they must meet at Manchester Victoria train station and wear sensible footwear for a walk over "uneven" ground to the final destination.
"It's a journey to get there, and when people get to the space they won't really know where they are," Smith says vaguely.
"It's somewhere that's being built at the moment, that we've managed to get hold of before it's finished."
So far this year, as well as headlining Glastonbury's second stage, The xx have staged three of their own outdoor festivals and been on a world tour that has taken in two nights at New York's Hammerstein Ballroom and another two at Melbourne's 5,000-capacity Festival Hall.
Now they are headlining a building site.
"The idea was to do something more intimate, compared to the sorts of shows we've been doing recently," Smith explains.
"We wanted to play to a smaller number of people, like we did at the beginning, but with our better knowledge of performance and the fact that we've got a lot more confident in what we're doing."
It took between a heartbeat and the blink of an eye for the Manchester tickets to sell out.
The band's debut album won the Mercury Prize in 2010 and became ubiquitous as the soundtrack to many a TV trailer. Their second album, Coexist, went to number one last September and has enhanced their stature.
On the surface, the trio appear unlikely candidates to be one of the country's biggest current bands. But their aching torch songs, sparse twilight beats and anti-pop aesthetic have caught the (slightly sultry) mood of modern Britain.
The group, fronted by the expressionless, black-clad vocalist-guitarists Oliver Sim and Romy Madley-Croft, have no problem with big gigs, Smith insists.
"We're very happy with how our stage show is at the moment," he says. "We feel like we've got a sense of intimacy but also a big production."
At typical gigs, the atmosphere is heightened by ambient white lighting and overflowing dry ice.
"But we want to keep pushing ourselves to do things to make us better, basically, and make us interesting and keep people interested.
"I think that's the only way to progress. So we keep coming up with things to do, and this was one of them."
Smith, a keyboardist, producer, percussionist and remixer extraordinaire, recalls an early gig at the ICA in London as an example of how special a small gig can be.
They played in an upstairs room that was "like a living room", he says. "There were people sitting on the floor while we were playing, and you could see the whole of St James' Park in the background.
"There are a lot of intimate ones that I'd like to forget," he adds. "We've played a lot of gigs on a Friday night in small pubs, where people just wanted to dance. Instead, they were listening to us being… us."
In Manchester, the band are playing three gigs a day on some days, an arduous schedule. And the residency will take a relatively big chunk of time for such an in-demand band.
Most groups would play one gig for 1,000 people and move on, rather than stay for two weeks to play 18 shows. (The xx have also added a larger show at the Manchester Ritz.)
Smith repeats that the band want to "push ourselves" and says it is worth taking more time to create events that they and their fans will remember.
"I think any band that gets to this point should be pushing themselves, rather than just doing the standard big gigs [for] big money around the world," he argues.
New material
During their stay, the trio are renting a house on the edge of the city, where they will use a home recording studio to work on new material.
"I'm actually really looking forward to it because we get to spend two weeks in one place, which is quite rare for us. We haven't done that in about a year," Smith says.
And he hopes the experience of playing the tiny shows will get the group's creative juices flowing and give them ideas about what they do next.
"We've been touring for six years now," he says. "I think if we didn't try and make things interesting for us and for people coming to watch us, I don't think we'd be inspired to make another album."
The xx play at a secret venue in Manchester until 18 July and at The Ritz on 9 July.