National Media Museum 'was in firing line'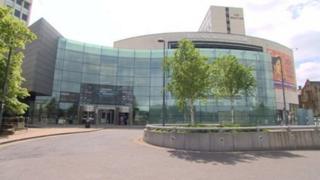 The Science Museum Group (SMG) has said Bradford's National Media Museum would have been shut if funding cuts had forced it to close one of its venues.
The group recently warned that the National Media Museum, York's National Railway Museum and Manchester's Museum of Science and Industry were at risk.
The government has since confirmed a 5% cut, which was less than was feared.
SMG director Ian Blatchford said a 10% cut would have meant the Bradford venue would not have been "sustainable".
"The view very much of the whole board from day one has been that we wanted all the museums to stay open," Mr Blatchford told MPs on the House of Commons Culture, Media and Sport select committee.
"But in terms of which museum might need greatest attention, the greatest attention was really focused on the museum in Bradford."
The attraction must be overhauled to focus more on science and technology, he said.
'Real threat'
"The conversations I had with the leader and chief executive of Bradford [Council] were as follows - in a scenario where the cuts were not significant, we would have both the time and the money to reshape the museum so it had a stronger technology focus.
"And indeed [we] discussed a number of very exciting plans about how we could increase audience numbers.
"In a 10% scenario, the cuts would be so significant that we wouldn't have the time and the money to achieve that and therefore there was a real threat that the museum would not be sustainable."
Both Mr Blatchford and Culture Minister Ed Vaizey have now confirmed that none of SMG's four venues will be shut. The group also runs the Science Museum in London.
The National Media Museum holds more than 3.5 million items including the world's earliest known surviving photographic negative, the earliest television footage and the camera that filmed the first moving pictures in Britain.
But visitor numbers have fallen from a peak of nearly a million in 2001 to 488,000 in 2012.