Losing the race: Is theatre embracing black stories?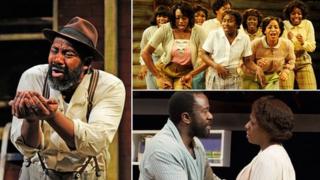 Theatre director Rufus Norris recently told the BBC that the UK still lags behind the US when it comes to casting black actors.
"In America, there is much more colour-blind casting," he explained. "What we want to see is a more representative cast across the board in all dramas."
His criticism followed similar comments from actors including Homeland star David Harewood - telling the Guardian in December: "It's just different in the States. You turn on the TV and you see blacks in adverts and you see blacks hosting the news and quiz programmes and you see yourself.
"And then you come back here and feel invisible again."
Last year, Nathaniel Martello-White's play Blackta tackled the struggle faced by black actors to find work on screen and stage.
Norris is currently directing The Amen Corner at the National Theatre, written by playwright James Baldwin and featuring an entirely black cast, led by Marianne Jean-Baptiste
Jean-Baptiste left the UK after her breakthrough role in Mike Leigh's Secrets and Lies to pursue work in America.
A musical adaptation of The Color Purple opens at the Menier Chocolate Factory this week and Lenny Henry leads an all-black cast in a revival of the American play Fences at the Duchess Theatre.
Here, some actors and directors share their thoughts.
LENNY HENRY, ACTOR, FENCES
Whoop-de-doo, three plays - yes, of course there's a bit of a bump. If you think about the 70s and 80s you had Norman Beaton at the Royal Court and Derek Griffiths in The Black Mikado. Black actors did very well in the 70s.
Theatres have shorter development time, so there will always be more diversity and diverse representation in the theatre. Television is different - longer development time, more money, higher risk. There are more black and Asian directors behind the scenes in theatre than television and when they up the ante on that, things will change.
[Fences] is universal. It's about a family, dads and sons and mums and daughters and all of the problems therein. It makes you feel and that's the most important thing.
Everybody says [his character, Troy] is just like their dads. I have white people hugging me in Wales saying: "He's just like my dad."
He's like everybody's dad, if your dad was a miserable git with control issues. My dad loved his family and worked very, very hard but he had issues too. I've got dad issues - he never hugged you, never said he loved you. Troy's a bit like that but he loves his family and you can tell but it comes with a cost.
NICOLA HUGHES, ACTRESS, THE COLOR PURPLE
I'm one of the few where I've been able to play roles that are normally cast with white performers. I have been lucky and it doesn't happen often. It should happen more.
Then, the other side of that, there should be more black stories to tell. We've got so much to say and there isn't enough being written now for black performers to perform in.
As much as I love The Color Purple - it's a classic - the black British story isn't always being told. It's amazing to me as we are so diverse in this country.
I saw the movie when I was eight or nine and I was fascinated, I'd never seen an entirely black movie before, and I'd never seen such an emotive movie before and I used to watch it over and over again on VHS at my grandmother's house.
JOHN DOYLE, DIRECTOR, THE COLOR PURPLE
I think it's very refreshing in the case of The Amen Corner and in the case of this [The Color Purple] that it was written by African-Americans for black actor-singers. There's no colour-blind casting going on, we have 17 black actors and you don't see that a lot on the stage in this country, do you?
More and more of the big companies, the classical companies - you could do a Shakespeare and not worry about whether a brother is black and a sister is white because of the stature of the language.
This piece is written solely for black actors so it's thrilling to see them together. Some have worked together before because it's a limited pool of people.
I do think that companies like the National Theatre have worked hard to bring writers of all colours and creeds into all theatres so I think big moves have been made.
I had to think a little bit before I did this job about whether I, as a white man, should direct The Color Purple. I felt slightly unsure if it was a good idea.
I happened to go to university in Georgia, where it's set, in the 1970s and so I felt I had some connection with the material and I had a connection with the theatre.
So I had to consider if I was the appropriate director - I hope I am.
CYNTHIA ERIVO, ACTRESS, THE COLOR PURPLE
I think it's a gorgeous thing to be seeing and they're really great shows as well. That's the great thing about it, having great productions and good stories. I don't remember the last time we had something like this come around.
I saw Fences the other night and I absolutely loved it.
Often when British black plays are put on, they're in fringe venues. Probably the closest we get is the Royal Court - they do a lot of [British playwright] Debbie Tucker Green there but I haven't really seen any others in the West End.
I think it will take us kick-starting things and for people not to be afraid if it will bring in a big crowd, I suppose. It's such a multicultural society that we live in that I see no reasons why we can't put on as many different cultured plays as we can, West End or otherwise.
PAULETTE RANDALL, DIRECTOR, FENCES
It's history repeating itself because this has happened before. It's like waiting for a bus and suddenly there's three of them and then you might be waiting again.
The thing I find difficult about it is, yeah, great, let's celebrate that we're having these amazing shows and the face of theatre looks slightly different but it should be sustained.
It's making news - there are three at the same time - but it shouldn't be news.
Of course, there's discrimination [for black, female directors] and my thing is that I'm absolutely behind getting people behind the scenes into directing, writing, producing. We're doing quite well for writers but there's room to improve. It's crucial that we have people in all elements of theatre - publicity, marketing, just doing what everybody else does.
There are still small companies but high-profile work? And the other thing is that these are three American pieces, they're not even written by British writers.
Looking at the make-up of our audiences, for example, when we were in Richmond, the audiences were in the majority white and they were moved and completely engaged with it so that's the beautiful thing about it - that, in its specificness, it's universal.
It is as it should be because theatre is for all of us.