Carnegie Medals won by Richard Ford and Timothy Egan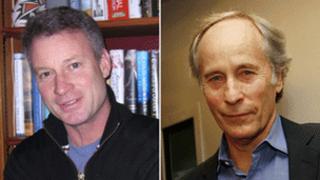 Richard Ford and Timothy Egan have won this year's Andrew Carnegie Medal for Excellence, presented by the American Library Association for the best works of fiction and non-fiction.
Ford, a Pulitzer Prize-winning novelist, won for Canada, narrated by the teenage son of bank robbers.
Egan was selected for Short Nights of the Shadow Catcher, a biography of photographer Edward Curtis.
Ford and Egan both credited libraries for making their work possible.
Ford, who now regularly donates books to his local library in Maine, recalled time spent as a young boy at Carnegie library in Mississippi.
He said his mother would leave him at the library on occasions, which was down the street from his home, considering it a safe place for a child.
"I got an introduction there to what books were, why books were important," he added.
Egan, who won the US National Book Award in 2006 for The Worst Hard Time, a history of those lived through the Dust Bowl during the Great Depression, described libraries as "the keepers of our stories".
Two 'terrific reads'
He said they enabled him to carry out research for his winning biography of Curtis, who had compiled a 20-volume archive of native Americans before his death in 1952.
Few copies of the book exist today but Egan managed to look through the pictures at the University of Washington library in Seattle.
"It was really magical,'' said Egan.
"You have to put on these white gloves and look very carefully through this glowing, magical achievement."
Judges said selecting the winners was "incredibly difficult".
Nancy Pearl, chair of the awards' selection committee said: "The two winners, while differing greatly in subject matter, tone, and style, share two important characteristics: they're both terrific reads, both illuminating and absorbing and each is simply wonderfully written."
Ford and Egan each received $5,000 (£3,282) for their winning entries, while the four finalists each received $1,500 (£984,000).
In fiction, they were Junot Diaz for This Is How You Lose Her and Louise Erdrich for The Round House.
The nonfiction finalists were David Quammen for Spillover and Jill Lepore for The Mansion of Happiness.
The Carnegie medals were set up in 2012 and are funded through a grant by the Carnegie Corporation.