BBC criticised for £25m severance bill for 150 managers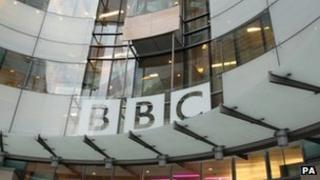 The BBC has been criticised by the National Audit Office for paying out £25m in severance to 150 senior BBC managers, and risking "public trust".
The top 10 payments in the three years to December 2012 accounted for 20% of the total.
The BBC said the savings it had made from senior manager redundancies exceeded the cost of severance pay.
The BBC's director general Tony Hall said: "These payments were from another era and we are putting a stop to them."
He added: "I believe the BBC lost its way on payments in recent years. I have already said that we will be capping severance payments at £150,000 and we have now begun to improve our processes."
The BBC announced in April that it was consulting staff on capping redundancy payments at £150,000 or 12 months' salary, whichever is lower.
The BBC also estimated that the cumulative pay bill saved from reducing senior manager numbers in the three years to December 2012 was £35m.
However the National Audit Office (NAO) found that the BBC had breached "its own already generous policies on severance payments".
Amyas Morse, head of the NAO, said: "Weak governance arrangements have led to payments that exceeded contractual requirements and put public trust at risk."
The NAO noted "decisions to award severance payments that exceed contractual entitlements have, until recently, been subject to insufficient challenge and oversight.
"The BBC's proposal to cap redundancy payments, announced in 2013 by the new director general, is a signal of change for the better. It is well below the maximum that applies to civil servants."
The report also noted that the number of senior managers had been reduced from 660 to 445 in the three years to December 2012.
Culture Secretary Maria Miller said: "Every publicly-funded organisation must be able to justify every penny of taxpayers' money they spend, and even more so in these tough economic times. There is huge public interest in the BBC, and the NAO has exposed a culture of pay-offs that simply cannot be justified.
"The report shines a light on a culture at the BBC where individuals received payments that went beyond the already very generous terms of their contract. I welcome the fact that the BBC is looking at future payments - a move which this report suggests is long overdue."
A Downing Street spokesman said the prime minister "very much backs the position that Maria Miller has taken on this".
Former BBC director general Mark Thompson declined to comment.
The NAO provided analysis of several case studies in its report, one of which was the former deputy director general Mark Byford who was paid £949,000, which included £73,000 for unused leave.
Former BBC executive Roly Keating, who was paid £376,000 after 29 years service at the BBC, returned a cheque for their net severance payment.
The BBC had negotiated a severance arrangement before the manager's post had been made redundant.
Mr Keating, who was the BBC's director of archive content until he left last year to become chief executive of the British Library, told the NAO that they would not wish to benefit from a payment that could not be demonstrated to be fully and appropriately authorised.
The prime minister's spokesman, when asked whether former BBC executives should follow the lead of Mr Keating, said: "Ultimately it is up to individuals to consider their actions.
"The point the PM would want to get across is that it is really important at any time that a publicly-funded organisation is spending taxpayers' money wisely, but especially at a time when we have tough economic constraints that money is being properly spent."
It is the BBC's executive board remuneration committee that takes decisions on senior pay packages but the BBC Trust has to hold the executive board to account.
The NAO noted that former BBC director general George Entwistle was paid £475,000 after he announced his resignation in November 2012. This included three weeks' salary worth £25,000 that was not part of his severance package of £450,000.
Mr Entwistle was entitled to a notice period of 12 months, although he was only in the job for 54 days.
The BBC Trust has since agreed with Mr Hall on a reduction to his notice period from 12 to six months.
The trust asked the NAO to carry out a review following public concern about the BBC's severance payments to senior managers.
Anthony Fry, BBC trustee and chairman of the trust's financial committee, said: "Although the BBC has achieved significant savings in its senior manager pay bill, some of the NAO's conclusions are deeply worrying, particularly the failure to follow agreed severance policies in a number of cases as a result of weak governance from the BBC executive in the past.
"Such practices are unacceptable and I have no doubt that they will, quite rightly, be met with considerable dismay by licence fee payers and staff alike."
He added: "We have asked the Exec to increase the transparency of the BBC's severance payments by disclosing more information in the annual report and accounts."
The BBC has also defended the creation of the new post, that of deputy head of news and current affairs, which will be filled by the current head of BBC newsgathering, Fran Unsworth.
In a statement, a BBC spokeswoman said: "This is a senior role which aims to strengthen the BBC News management team.
"Previously the deputy director role was carried out as part of other wider responsibilities but it was felt it is such an important role at this current time that it needs to stand alone."