Monsters University stays top of US box office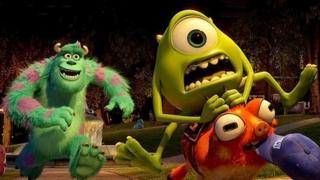 Disney-Pixar prequel Monsters University has topped the North American box office for the second week running, taking $46.1m (£30.2m).
Fox's action comedy The Heat, starring Sandra Bullock and Melissa McCarthy, was the highest new entry at number two, earning $40m (£26.2m).
It pushed Brad Pitt's World War Z down one place to third spot, with takings of $29.1m (£19m).
Channing Tatum and Jamie Foxx's White House Down debuted at number four.
The debut buddy cop action thriller took $25.7m (£16.8m) over the weekend, early estimates have suggested, which is less than Sony expected.
Chris Aronson, Fox's president of domestic distribution, said: "I think the fact that we have a female-centric movie standing out in a forest of giant tent-pole movies is phenomenal,"
"Audiences really responded. We positioned this to be a female event movie, and we got the opening that we were hoping for this weekend."
Rory Bruer, Sony's president of worldwide distribution, said: "It turned out to be a very competitive weekend.
"We had hoped White House Down did better, just from the standpoint that we love this film, but I feel very hopeful that with the 4 July holiday coming up, it will be the perfect film for audiences, and it'll really add up for us."
Superman movie, Man of Steel, was at number five, with takings of $20.8m (£13.6m).