Edinburgh Film Festival rewards Piper Alpha documentary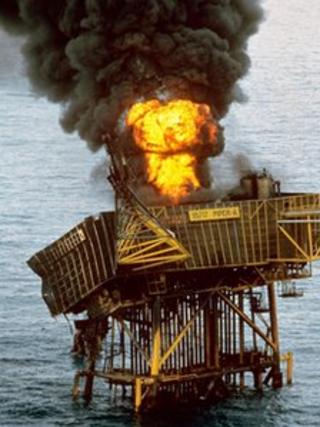 A documentary about the Piper Alpha disaster has won the audience award at the Edinburgh Film Festival.
Fire In The Night recalls the explosion on the North Sea oil rig which killed 167 people in 1988.
The film, which received its world premiere at the festival, features archive footage and interviews with some of the 61 survivors.
Director Anthony Wonke said he hoped the film would serve as a "suitable remembrance" to those who died.
"I'd like to thank everyone who voted for Fire In The Night, it really does mean an awful lot to everyone involved, especially all the men who took part in the film," he said.
"I know that they will be incredibly touched and thankful that the public engaged with this film and their story in such a positive way."
Documentary films dominated the awards, with the prize for best British feature film going to Leviathan, about a fishing trawler working off the coast of Massachusetts.
The jury praised the film as "an original and imaginative documentary which observes the brutal routine of deep sea fishing in a way which completely immerses the watcher in its story".
The award for best film in the international competition went to documentary A World Not Ours, about the Palestinian inhabitants of a refugee camp in Lebanon.
Best performance in a British feature film was split between Jamie Blackley and Toby Regbo for thriller uwantme2killhim?.
Other awards went to Josh Gibson, who was given an award for outstanding individual contribution to a short film and Marilyn Miller, who won the McLaren award for best new British animation for Mikey Please.