Oprah 'most powerful celebrity' in annual Forbes list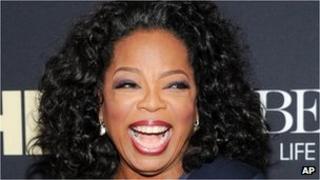 Oprah Winfrey has been named the most powerful celebrity in the world by Forbes magazine.
It is the fifth time the talk show host, who runs her own TV network, has topped the Celebrity 100 list, which is based on earnings and media exposure.
Singer Lady Gaga came in second, followed by film-maker Steven Spielberg and pop stars Beyonce and Madonna.
Last year's number one, the actress and singer Jennifer Lopez, dropped to 12th place.
Winfrey, whose confessional interview with disgraced cyclist Lance Armstrong became a world news story, earned $77m (£50m)in the 12 months to June 2013 - well below Madonna, who made $125m (£81m) and Spielberg who earned $100m (£65m).
But Forbes said Winfrey's status in Hollywood and her presence on TV and social media propelled her to the top of the list.
"She still wields an enormous amount of power, which is really what we look for in our fame matrix," said Dorothy Pomerantz of Forbes.com.
"She is taking this cable network and turning it around just through the sheer force of her will, her connections and her ability."
Lady Gaga earned $80m (£52m) over the past year, despite cancelling a number of shows on her tour because of a hip operation.
Like Winfrey, her profile has been boosted by a powerful social media presence.
"She is still a huge force in pop music. Even when she is not playing, people are talking about her and speculating about her," said Pomerantz.
Others included in the top 10 included 23-year-old country-pop singer Taylor Swift, followed by rock band Bon Jovi who placed seventh.
World champion tennis player Roger Federer, the most powerful athlete on this year's list, was placed at number eight.
Justin Bieber, who has 40 million Twitter followers, was the youngest to feature on the list at nine, while Emmy award-winning TV talk show host Ellen DeGeneres rounded off the list in 10th place.
Best actress Oscar winner Jennifer Lawrence was a newcomer to this year's list at 49, along with actors Hugh Jackman (11) and Channing Tatum (23).
Coldplay were the highest ranked British figures on the list at 14, three places above media mogul Simon Cowell.
Fifty Shades Of Grey writer EL James was also made the list at 42 after her books shifted 70 million copies around the world.