BBC apologises over Holly Willoughby dress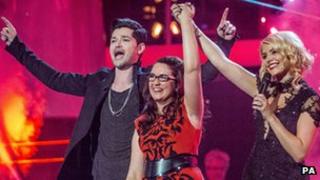 The BBC has apologised after viewers of The Voice complained presenter Holly Willoughby's low-cut dress was "unsuitable" for the show.
More than 100 people complained to the corporation about the 32-year-old's cleavage-revealing frock for Saturday night's live final on BBC One.
The BBC said: "We're sorry if some viewers found Holly's dress to be unsuitable."
It added the dress "was glamorous and wholly appropriate for the occasion".
The live final, which was won by Andrea Begley, was broadcast largely before the 21:00 watershed.
However it prompted some complaints from viewers who said Willoughby's black lace dress was too revealing.
In a statement, the BBC said the presenter "enjoys fashion", adding: "We don't believe it (the dress) would have gone against audience expectations for a TV spectacle such as this."
Phillip Schofield, Willoughby's co-host on ITV's This Morning, also leapt to the star's defence writing on Twitter: "139 complaints over Holly's gorgeous Voice dress. Let's hope those outraged on behalf of their kids don't take them to the beach this summer."