Museums urged to 'change lives'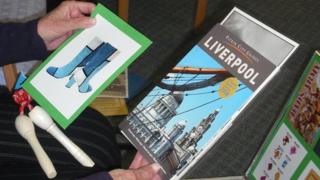 Museums have been urged to do more to make a difference to the lives of those in their towns and cities.
The Museums Association asked venues to "raise their ambitions" and "commit to improving [their] impact on society".
It cited projects with unemployed and homeless people, isolated older people and looked-after children.
But critics fear a change in focus may come at the expense of preservation and research at a time when the numbers of specialist curators are in decline.
The Museums Association said the time was right "for museums to transform their contribution to contemporary life".
Good examples, the association said, included the Museum of Liverpool's House of Memories project, which uses artefacts in dementia therapy.
The association also pointed to an art scheme with homeless people who slept rough outside Hollytrees Museum in Colchester and activities to celebrate cultural links between Luton and Pakistan.
'Social disintegration'
"We know that museums can sometimes reach people in ways that nothing else in society can," Museums Association president David Anderson said.
"Museums are recognising their huge potential to strengthen communities and contribute to a fair and just society. They have long been far more than just buildings and exhibitions.
"This need is all the more important in the light of the social disintegration taking place in so many areas but also more difficult for museums as they face such debilitating cuts."
The initiative comes at a time of budget cuts that the Museums Association has warned will result in museum closures, shorter opening hours and fewer services.
Over the past decade, the number of natural history curators has declined by more than 35% and the number of art curators has dropped by 23%, according to a recent survey in the Museums Journal.
Dr John Nudds, a senior lecturer in palaeontology at the University of Manchester, said: "In my opinion the raison d'etre of our museums is the preservation of our national heritage.
"Directors with no regard for the collections are now culling specialist curators and replacing them with educationalists.
"My view is that this new role that museums are currently undertaking is to the detriment of the collections. Social work is nothing to do with museums."