Charlie and the Chocolate Factory receives mixed reviews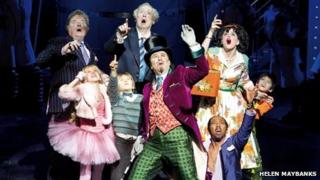 A spectacular West End musical based on Roald Dahl's Charlie and the Chocolate Factory has opened to generally positive, though not ecstatic reviews.
The Express, Independent and Guardian newspapers all gave Sam Mendes' show four stars, with the latter calling it "a lavish bonanza of a musical".
But the production received more guarded, three-star verdicts in the Telegraph, Times and Daily Mail, whose reviewer called it "slow as cold treacle".
Uma Thurman, Sarah Jessica Parker and her husband Matthew Broderick were among the star-studded audience at Tuesday's opening night.
Doctor Who star Jenna-Louise Coleman, 30 Rock's Jane Krakowski and Glee's Matthew Morrison were also in attendance to see Douglas Hodge play Willy Wonka, eccentric owner of the factory.
Composer Andrew Lloyd Webber, former EastEnder Barbara Windsor and Broadway icon Patti LuPone further swelled the celebrity ranks at London's Theatre Royal Drury Lane.
Here are excerpts from reviews printed in Wednesday's newspapers.
Daily Express - Simon Edge
A key ingredient in the recipe for a West End musical these days seems to be an original story by Roald Dahl.
The award-winning adaptation of Matilda continues to pack them in and now comes a mega-budget version of his best-known work.
With its British setting blurred enough for a comfortable Broadway transfer, it's undoubtedly a triumph of exuberant stagecraft.
That's enough to make this evening a silver ticket, but whether it's a golden one I'm not quite so sure.
The real problem is I didn't feel moved. This sumptuous evening feels a couple of strawberry creams short of the full box.
Read the full review here.
Daily Mail - Quentin Letts
The first half is as slow as cold treacle and most of the songs - which include an ironic techno-beat number - are duds.
On the positive side we can enter clever special effects (a good gag with a shrunken child) and a much better second half.
There is a solid central performance from Douglas Hodge as Willy Wonka and the set designs are colourful and plainly expensive.
But a really good musical gives you a sugar rush of emotional involvement. You care about the characters. That is absent.
Read the full review here.
Daily Telegraph - Charles Spencer
Director Sam Mendes lays on the theatrical goodies with a trowel. The sets are massive, the special effects amazing.
Yet it only rarely touches the heart or stimulates the imagination like the RSC's less spectacular but far more rewarding production of Dahl's Matilda.
The various calamities are staged with panache, and the special effects involving killer squirrels and those fearsome pygmies the Oompa-Loompas are highly ingenious.
But there is no disguising the fact that the show is repetitive and, with the exception of Charlie and his game old Grandpa Joe (Nigel Planer), heartless.
Most of the songs, by Marc Shaiman and Scott Wittman, strike me as serviceable rather than memorable and David Greig's script springs disappointingly few surprises.
Read the full review here.
The Guardian - Michael Billington
Although there's been much talk of the technical challenges involved in bringing the book to the stage, the real difficulty lies in preserving the story's humanity amid a welter of special effects.
The success of Sam Mendes' production lies in its reminder that, for all the razzle-dazzle of Mark Thompson's sets and costumes, Dahl's story is essentially a moral fable.
Less whimsical than Gene Wilder in the movie, Hodge gloriously reminds us that inside the beneficent Wonka lurks a testy authoritarian.
All this is testament to Mendes's skill in masterminding a lavish bonanza of a musical without letting us forget that Dahl's book is a morality play in which vice is punished and virtue gets its edible reward.
Read the full review here.
The Independent - Paul Taylor
Sam Mendes' big-budget production has opened after a whole month of previews and in the daunting wake of Matilda. Comparisons, invidious and otherwise, are inevitable.
Very engaging but rarely elating, this show is a skilful confection that doesn't quite produce the inspired sugar-rush of magic that's required.
As the enigmatic chocolatier, the brilliant Douglas Hodge delivers a master-class in comic timing as he tosses off complicated patter-songs with a quiet, almost insolently negligent ease.
It's in the nature of the story, though, that Wonka makes a dramatically delayed entry.
Read the full review here.
Metro - Arwa Haider
The scale of its ambition is impressive. Sam Skyfall Mendes combines blockbuster-movie prowess with solid theatre grounding.
Happily, it blends epic staging with genuinely special ingredients, including an animated intro by much-loved Dahl illustrator Quentin Blake.
The show's pacing is slightly uneven, and even lavish sets can't always capture Dahl's multi-flavoured imagination.
Ultimately this adventure, with its soft-centred sentiments and nicely tart twists, remains a delectable treat.
Read the full review here.
The Times - Libby Purves
Puppetry and illusions earn due gasps, and I really want one of those giant squirrel costumes to wear on Christmas Day.
David Greig's book provides a couple of thoughtful improvements on Dahl's sourness by emphasising Wonka's artistic urge.
But sad to say, the show lacks lift and magic. Mark Shaiman's music is mainly unmemorable and the lyrics are hard to make out in the ensemble numbers.
When it is over little is left. This biggest, costliest most famous show adds up to nothing much.
Read the full review here (subscription required).