Stephen Fry thanks 'kind' public after suicide revelation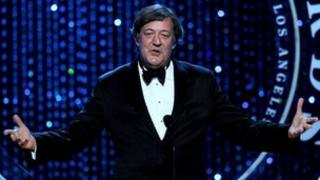 Comedian Stephen Fry has thanked the "warm, caring majority" who contacted him after he revealed he had attempted suicide in 2012.
Writing on his website, Fry said "the outburst of sympathy and support that followed my confession" had touched him "very deeply".
The 55-year-old said his mental health had improved, but he still struggled with loneliness and unhappiness.
"I am writing this for any of you out there who are lonely too," he added.
"I am luckier than many of you because I am lonely in a crowd of people who are mostly very nice to me and appear to be pleased to meet me. But I want you to know that you are not alone in your being alone.
"Loneliness is not much written about... but humankind is a social species and maybe it's something we should think about more than we do."
Fry, who has bipolar disorder, disclosed details of his suicide attempt while speaking to fellow comedian Richard Herring last month.
He said he had taken "a huge number of pills and a huge [amount] of vodka" while filming abroad, and a producer found him in an "unconscious state".
The actor has always been candid about his experiences of depression, and campaigns to end the stigma around mental health issues for the charity Mind.
He said that, following his latest revelation, the public had been overwhelmingly kind.
"There's something a little flustering and embarrassing when a taxi-driver shakes you by the hand, looks deep into your eyes and says, 'You look after yourself, mate, yes? Promise me?'" he wrote.
"And there's something perhaps not too helpful to one's mental health when it is the only subject people want to talk to you about, however kindly or for whatever reasons."
Fry is heading to the US in October, where he is due to appear in Shakespeare's Globe theatre's acclaimed production of Twelfth Night, alongside Mark Rylance.