Simon Russell Beale: The art of rehearsing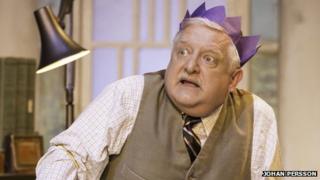 Simon Russell Beale is one of the titans of modern British theatre, equally at home in Shakespeare or Chekhov's most weighty roles as he is in shows like Spamalot or Privates on Parade.
He is currently starring in Harold Pinter's 1958 drama The Hothouse in London. But what is the secret of creating a great performance? Here, he gives an insight into what happens in the rehearsal room.
How long do you rehearse for a typical show?
If you're at the National Theatre, you probably do six weeks, perhaps even seven. That's from 10:30 to 5:30. For the West End, it's a shorter period - four or five weeks.
Then you have tech week, which is the nightmare week where you put the show into the theatre and get all the technical things done. Then you're doing 10 or 12-hour days.
What do you aim to achieve during rehearsals?
I've done a lot of great writing - Shakespeare, Pinter, Chekhov and Stoppard. My job is to excavate a text to see what I can mine out of it. Not something that's new, but something that can be freshly approached.
Some people think, what the hell we do for seven weeks? I think the old fashioned way, 50 years ago, was probably just sticking people on stage and telling them where to move and then lighting them and telling them not to bump into the furniture. It's become much more collaborative than that.
How is the time split between running through scenes, discussing the characters and other activities like playing games?
It all depends on the director. For example, Deborah Warner [who directed Julius Caesar in 2005] will spend a long time doing - games is the wrong word - but exercises about status. Julius Caesar is about Roman politics, it's about who's allied to who, who likes who, who doesn't like who.
Nick Hytner [National Theatre director] would spend time sitting around the table, going through the text with the whole cast so everybody knows what we're aiming for and what the meaning of the play is.
Some directors like to get onto the floor very quickly. Get people on their feet, because that's always a funny moment when you step up for the first time. It's always a self-conscious moment. Just temporarily, hopefully. But it's a moment where you go, 'I don't know what to do with my hands, I don't know how to walk', and all those stupid things.
How do you explore a script and a character?
I'll go back to the text - that's where I always start. If it's working, there's a moment where something clicks in my brain. There might be a couple of moments when this happens - when something really rather tiny will click in my brain and I'll go, 'oh yes, that means this and that means that'.
For example, I was a king in a Shakespeare play called The Winter's Tale, a very jealous king, and you see him behaving very badly and he causes the death of his wife. I discovered that everybody else was saying, 'you are a good king, you have always been a good king'. That sounds terribly simple, but it was a big moment for me to realise that this man wasn't always behaving like this, that he started off, some way before this play began, as a good man. This awful jealousy that he feels about his wife that means he behaves badly is exceptional. Those sorts of things are the things you discover, hopefully, during the rehearsal period.
Do you have an idea about how you will play the part before rehearsals start, or are you a blank canvas?
I think I'm pretty blank. Now I'm a bit older, I tend to want to learn the part beforehand. That is a debatable thing with actors - some like to learn the part beforehand, others don't, partly because you can get into a habit of saying lines in a particular way, which is very hard to break, if you learn it by yourself at home.
But the ultimate idea is to go as a complete blank canvas and see where the argument takes you. It's very often an accumulation of tiny little discoveries which lead up to a coherent part.
There are other important moments, like the first time you see yourself visually. I never used to think that was particularly important, but I've realised that it's very important. The first time I see what I look like in costume and with the full visual image in the mirror is a very important moment because sometimes that crystallises various things.
What happens if you have a fundamental disagreement with a director?
I can honestly say that has never happened to me, so I don't know. I suppose the ultimate that happens is that one or other leaves the production. I haven't had those. But I have disagreed with directors.
I disagreed with Sam [Mendes] when we did a production of Uncle Vanya about the way the first scene was going. He and I had a shouting match rather late on in rehearsal and he told me to buck up and get on with it, and neither of us were very happy. But we resolved it, like you do in normal working situations, by talking it through and perhaps even compromising.
That's a funny word to use in theatre - that sounds a bad word because one person's vision is being somehow compromised. But that's what you do. You debate it through. It's much more collaborative than people think.
Have you ever got to the end of rehearsals and thought, I'm just not ready?
Oh God yes. I think that's a very common feeling. I remember doing a dress rehearsal [for Candide in 1999] and we had the first performance that night and it was chaos. Absolute chaos.
But then something really rather weird happens sometimes, which is that the sheer adrenalin and concentration of performers meant that that performance that night was actually fine and it went on to be a very successful production. [Russell Beale won an Olivier Award for his role.]
What advice do you give to young actors?
I'm sure every actor would say the same - you have to be absolutely as open as you can to new ideas. Don't block anything.
Simon Russell Beale was speaking to BBC News arts reporter Ian Youngs. The Hothouse is at the Trafalgar Studios in London until 3 August.