Sam Taylor-Johnson to direct 50 Shades of Grey film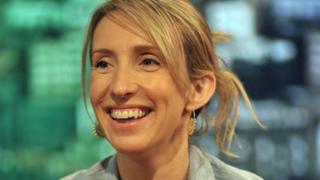 Artist and film-maker Sam Taylor-Johnson has been chosen to direct the big screen version of the smash hit erotic novel 50 Shades of Grey.
It will be the second feature film for the director, who rose to fame under her maiden name, Taylor-Wood.
She previously helmed 2009's Nowhere Boy, the account of John Lennon's youth starring her husband Aaron Johnson.
The 50 Shades trilogy by author EL James has sold more than 70 million copies around the world.
The novels tell the story of the sadomasochistic relationship between billionaire businessman Christian Grey and "unworldly, innocent" literature student Anastasia Steele.
"I am excited to be charged with the evolution of Fifty Shades of Grey from page to screen," Taylor-Johnson said.
"For the legions of fans, I want to say that I will honour the power of Erika's book and the characters of Christian and Anastasia. They are under my skin too."
Producer Michael De Luca praised the director's "unique ability to gracefully showcase complex relationships dealing with love, emotion and sexual chemistry".
"EL James's characters and vivid storytelling require a director who is willing to take risks and push the envelope where needed and Sam is a natural fit," he said.
Taylor-Johnson is also making a movie adaptation of Robert Goolrick's bestselling novel A Reliable Wife.
Before moving into movies, the British director was known as a visual artist and was nominated for the prestigious Turner Prize in 1998.
The script for 50 Shades of Grey is being written by Kelly Marcel, who created the US TV series Terra Nova.