James Franco turns to crowdfunding to fund new film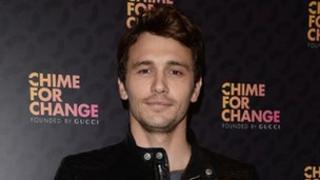 Actor James Franco is the latest star to turn to a crowdfunding site in an attempt to help fund a trilogy of movies based on his short story collection, Palo Alto.
Franco hopes to raise $500,000 (£319,000) through his campaign on Indiegogo.
Four directors will take on the films if the target is reached by 17 July.
Zack Braff and the creator of US sitcom Veronica Mars have benefited from similar campaigns.
Braff managed to raise more than $3m (£1.9m) through Kickstarter for his film, Wish I Was Here, while more than 30,000 people raised $2m (£1.3m) within 24 hours, towards making a Veronica Mars movie.
Franco, whose book tells of his coming-of-age experiences in high school, said he would still fund part of the project but said "filming three feature films back-to-back requires more funding than I can give".
"Because of who I am, people often believe that it is easy to find investors and distributors for my films. Unfortunately, things aren't that easy," he said.
"More times than not, I have put in my own money to produce my films and my students' films."
The films, titled Memoria, Yosemite and Killing Animals, will be directed by Bruce Thierry Cheung, Gabrielle Demeestere, Nina Ljeti and Vladimir Bourdeau - all current or former students of New York University, where Franco attended its film course.
Perks for contributions range from copies of the screenplays for a $10 (£6.40) donation to dinner with Franco and an executive producer credit for $10,000 (£6,400).
Franco, who has directed a number of feature films and is currently starring in the apocalyptic comedy This Is the End alongside Seth Rogan, pledged to donate any profits from the films to Art of Elysium, a charity that encourages entertainers to visit children with serious medical conditions.
As of Wednesday morning, the campaign had pulled in $43,009, with 29 days to go before it closes.
Indiegogo allows people to keep the money they raise even if the project doesn't materialise.