Sally Gardner novel Maggot Moon wins Carnegie Medal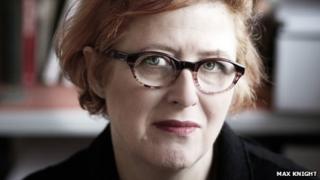 Sally Gardner, a dyslexic author once branded "unteachable" at school, has won the prestigious Carnegie Medal for her book Maggot Moon.
Gardner's novel tells the story of a dyslexic boy living in an alternative 1950s Britain, whose rulers are intent on winning the space race.
"I'm still wondering if I'm going to wake and find that winning the Carnegie Medal is a dream," Gardner said.
"If it is true, then it has the quality of a dream come true."
Accepting her award at Wednesday's ceremony at the Natural History Museum in London, Gardner - who campaigns on behalf of those with dyslexia - criticised education secretary Michael Gove's new curriculum.
"Without books I would not be a writer and without the zeal of librarians I would not have won this award," she said. "I believe teachers and librarians should be free to instil a life-long love of learning, without being policed by an outdated curriculum.
"I firmly believe Gove's new curriculum excludes rather than embraces those like me, and millions of others, with a different way of seeing and thinking."
Alongside Maggot Moon, the seven Carnegie shortlisted titles were A Greyhound of a Girl by former Booker prize-winner Roddy Doyle, Wonder by RJ Palacio; The Weight of Water by Sarah Crossan; A Boy and a Bear in a Boat by Dave Shelton; In Darkness by Nick Lake; Midwinterblood by Marcus Sedgwick; and Code Name Verity by Elizabeth Wein.
Illustrator Levi Pinfold won the Kate Greenaway Medal, which recognises excellence in illustration, for his picture book, Black Dog.
Both the Carnegie and Kate Greenaway Medals are awarded annually to a book for young people by Cilip: the Chartered Institute of Library and Information Professionals. Gardner and Pinfold each receive £500 worth of books to donate to their local library.
In Gardner's Maggot Moon, the dyslexic hero Standish Treadwell stands up to a brutal dictatorship. Pinfold's Black Dog sees a girl called Small Hope facing her fears when she confronts a giant black dog.
"The heroes in both Gardner and Pinfold's exquisitely realized and highly original books are the antithesis to the heroes we come to expect from Hollywood; both are small and without obvious talent," said Karen Robinson, chair of the judging panel.
"But in the face of terror their pluck, courage and hope shines brightly through. I'm confident that both books are true modern classics and will be read and enjoyed by generations to come."
Speaking to the BBC, Gardner admitted that Maggot Moon was a "Marmite book" that had divided readers.
"They either love it or hate it," she said. "Some little kids get very upset about the language and don't like the violence - others think it's wonderful.
"I've used very simple language which is deceptive and used very complicated ideas. I can see why they find that confusing."
Gardner's dystopian tale also won this year's Costa Children's Book Award. Her first novel I, Coriander won the Nestle Children's Book Prize Gold Award in 2005.
'Miserable marriage'
In her acceptance speech on Wednesday, the author described her own education as a dyslexic child as "a comedy of errors".
"If I had been lucky enough to be educated in this enlightened age with Michael Gove and his standardized tests calling the shots, I would currently be considered… thick, uneducable and other words that wouldn't be considered PC to use today," she said.
Gardner said she wanted to see "an annulment in the miserable marriage between state education and politics".
"Wouldn't it be good if we could let teachers do what they do best - teach. Not judge each child on a series of standardized exams. Let schools embrace, not exclude, those like me with a different way of thinking.
"Stop praising literacy with one hand and closing libraries with the other. Let librarians be free to do what they do best: encourage a lifelong love of reading in every child, even the ones without a hope of ever getting an A star."
In response, a Department for Education spokesperson said: "While exams are part and parcel of school life, we agree that education should not be an endless treadmill of revision and testing.
"We are ending that constant slog of exams every few months by getting rid of GCSE modules and making AS levels standalone qualifications.
"Academies and free schools are giving teachers more freedom than ever before, and we are trusting all teachers to use their expertise and creativity to shape the curriculum to meet the needs of their pupils. In fact, the new national curriculum is far less prescriptive and almost halved in size - 242 pages down from 468.
"We are also spending £292m to ensure that every child has access to a rich cultural education, including £3.6m for visits to museums and galleries, £196m for every child to have the opportunity to learn a musical instrument, and funding Saturday art and design clubs in the most deprived areas."
Last year, Patrick Ness's novel A Monster Calls, illustrated by Jim Kay, won both the Carnegie and Kate Greenway Medals for the first time in the awards' history.
The Carnegie prize was founded in 1937 in memory of Scottish-born philanthropist Andrew Carnegie and was first awarded to Swallows And Amazons author Arthur Ransome for Pigeon Post.
Other previous winners include Philip Pullman, Anne Fine, Terry Pratchett and CS Lewis.