Shakespeare's Globe to hold open youth auditions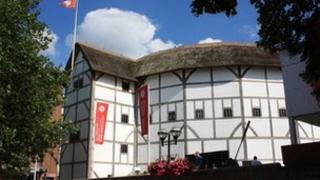 Shakespeare's Globe is to hold open auditions for its new youth company specialising in Jacobean period drama.
Artistic director Dominic Dromgoole said he wanted to find child actors from across "as broad a social spectrum as possible".
The company of 12 to 16-year-olds will be recruited in July followed by a workshop in September.
The Globe Young Players' first production will be The Malcontent in April 2014.
Caitlin McLeod, director of The Malcontent said: "Shakespeare's Globe is famous for turning plays on their head, inviting us to see a different way. Satire does it with society and young people have the innate ability to do the same with us. A concoction of all three is a thrilling prospect. I am excited to be part of it."
Dromgoole said that the new company represented "another important step in the Globe's ongoing task to explore first practices, and to use them to refresh our present way of working, and point forward to new possibilities".
When The Malcontent was first staged in the Blackfriars playhouse at the turn of the seventeenth century, the cast was made up of a troupe of boy players.
The Globe's new youth company will consist of both boys and girls from diverse backgrounds. The new Malcontent production will be open to girls as well as boys.
'Rude and wild'
"When were first thinking about this, we thought we could get in a group of boys from Eton or Dulwich or whatever, but that felt wrong somehow because the kid actors of that period would have been from all parts of the social spectrum - marked out by their ability and hunger to act," Dromgoole explained at the theatre's season announcement in April.
He added: "It's becoming harder for children and young actors without means to get into drama school and I think that's an enormous shame."
Dromgoole described The Malcontent, John Marston's satire, written around 1603, as "a dizzyingly funny, rude and wild play".
It will be performed at the candle-lit Sam Wanamaker Playhouse, the Globe's new indoor Jacobean-style theatre which is still under construction.
The first round of open auditions will be held in London between 25 and 28 July. Those wishing to take part must register their interest by 15 July. Successful candidates from the first round of auditions will be called back to attend a workshop in September, followed by a final round of auditions for those who make it through the workshop stage.
The Sam Wanamaker Playhouse will open its doors in January 2014 with The Duchess of Malfi.