Michael Jackson promoters were 'highly inappropriate'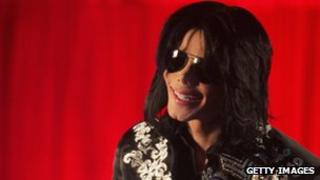 Music industry expert David Berman has told a US court that promoter AEG Live's dealings with Michael Jackson's doctor were "highly inappropriate".
Jackson died in 2009 following an overdose of a powerful anaesthetic, administered by Conrad Murray.
Murray, hired ahead of Jackson's comeback shows in London, was convicted of involuntary manslaughter in 2011.
Jackson's mother, Katherine, is suing AEG for $40bn (£26bn). The company have denied any wrongdoing.
The Jackson family claim AEG failed to properly investigate Murray and missed warning signs about the singer's health.
Mr Berman, a former head of Capitol records, is testifying for Mrs Jackson during the on-going case in Los Angeles.
Asked whether it was appropriate for the concert company to attempt to hire a doctor on the singer's behalf, Mr Berman said: "I believe that it's highly inappropriate. It is highly unusual.'"
He added that a more appropriate relationship would have been for Jackson to hire cardiologist Mr Murray without any involvement from AEG Live.
Mr Berman said that after viewing draft contracts and emails between AEG company executives, he believed AEG Live thought it controlled the physician.
AEG denial
He also said the company should not have negotiated with Conrad Murray without notifying Jackson's representatives.
The experienced executive, who worked with acts such as The Eagles, The Beach Boys and The Doors, is being paid $500 (£320) an hour to testify for Mrs Jackson.
Mr Berman retired from the music industry in 2001 to become an expert witness for music industry-related lawsuits.
AEG's lawyers have objected to Mr Berman's expertise, pointing out he has never been a tour producer or promoter.
An AEG lawyer showed Mr Berman a statement signed by Jackson's former manager, Frank Dileo, stating that he was aware of negotiations with Murray, and that it was his understanding that AEG Live's CEO objected to bringing the physician on tour.
AEG have yet to question Mr Berman in court.
The company denies it hired Murray. The company's executives and lawyers have said that AEG was merely advancing Jackson the money to pay Mr Murray, and a valid contract never existed.
Its executives have also stated that it agreed to pay Mr Murray's salary only because Jackson insisted on him coming on tour.
The case continues.