Arts fundraising fellowship programme launched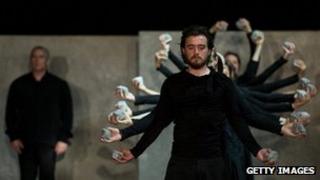 The Arts Council is to fund a new fellowship programme to train arts fundraisers of the future.
The Arts Fundraising and Philanthropy Fellowship will offer 11 places for entrepreneurial graduates at organisations including Opera North and Tate Liverpool.
The programme is the first of its kind in the UK.
With continuing spending cuts it is thought fundraisers will be increasingly important for the arts.
A recent study by the charity Arts & Business suggested a growing divide in donations to the arts between London and the rest of England.
Philanthropic giving to theatres and galleries rose 10% in London between 2011 and 2012. while donations elsewhere fell 3.5%.
The trainee fundraisers will take part in an intensive 12 month training programme and it is hoped that they will go on to be leading directors of arts organisations in the future.
Earlier this month the Arts Council had warned that a rumoured 10% decrease in its budget could force it to remove regular funding from hundreds of organisations.
But the BBC understands The Department for Culture, Media and Sport (DCMS) has agreed an 8% cut in spending for 2015-2016 in a deal with the Treasury.
It is understood that arts and museums will share less of the burden with a reduction of around 5%.
Peter Bazalgette, Chair of Arts Council England, called the fellowship programme a "massive opportunity" that will "benefit the wider arts and culture sector".
The mixed economy funding model, "with money coming from multiple sources, is what allows the arts and culture in this country to thrive" he said.
"This is just one way in which the Arts Council is helping the sector develop its ability to maximise other income streams to work effectively alongside their public funding."
As well as learning on the job from experts in the field, they will also receive a bursary to attend the National Arts Fundraising School.
The deadline for applications is 1 July 2013 and fellowships will start in September or October.