Ofcom resolves BBC boat race swearing case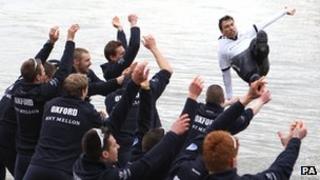 Ofcom has resolved a complaints case against the BBC over offensive language broadcast live during the 2013 Oxford and Cambridge University Boat Race.
Oxford cox Oskar Zorilla, who led his crew to victory on Easter Sunday, was heard swearing several times.
The media watchdog said use of the expletive was "clearly inappropriate" on a Sunday afternoon when children may be watching.
But it gave the BBC credit for measures it took to minimise the swearing risk.
The BBC said it had had a meeting with both teams prior to the event in which all participants had made a commitment to avoid swear words.
On-air apologies were made immediately following two of the incidents but the BBC production team did not hear all of the offensive language due to multiple sound feeds coming in from the outside broadcasting unit.
The BBC said it would change its strategy for future events.
From 2014, it will appoint a dedicated staff member whose sole responsibility will be to monitor the cox microphone feeds.
The first instance of offensive language will be the subject of an immediate apology. Any repeat will result in the feed being cut immediately.
One of the incidents this year - when Mr Zorilla was thrown into the river after the race - was picked up by an underwater camera.
The BBC said it would review the sound received by other equipment at the point the cox of the winning boat is thrown into the water.
The corporation said it regretted the broadcast of audible swearing and recognised that it offended some viewers, but was confident that its proposed procedures would minimise the risk of this happening again.
Ofcom received nine complaints over the incidents.