Miranda Hart to discuss career at Edinburgh TV Festival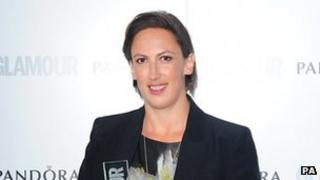 Comedy actress Miranda Hart is to discuss her career in a keynote interview at this year's Edinburgh International Television Festival.
The hour-long session will see the sitcom and Call the Midwife star talk about her work ethic, creative process and future plans.
Breaking Bad creator and executive producer Vince Gilligan will lead a masterclass on the US drama.
The 38th festival will run from 22 to 24 August.
More than 2,000 UK delegates from the broadcasting and media industries attend the annual event.
Hart is best known for her eponymous BBC One sitcom which has earned her three Royal Television Society awards in its three series.
Breaking Bad is about a terminally ill man who turns to crime in order to provide his family with financial security after he dies.
The festival's programme line-up also includes sessions on BBC Two's The Great British Bake Off and Channel 4's The Undateables.
Brian Henson, son of Jim Henson and an award-winning director, producer and puppeteer in his own right, will give an inside view of the use of puppets and how they have evolved on TV and the big screen, from The Muppet Show to the modern day.
Kevin Spacey, the actor and artistic director at the Old Vic theatre, will deliver the festival's keynote MacTaggart lecture.